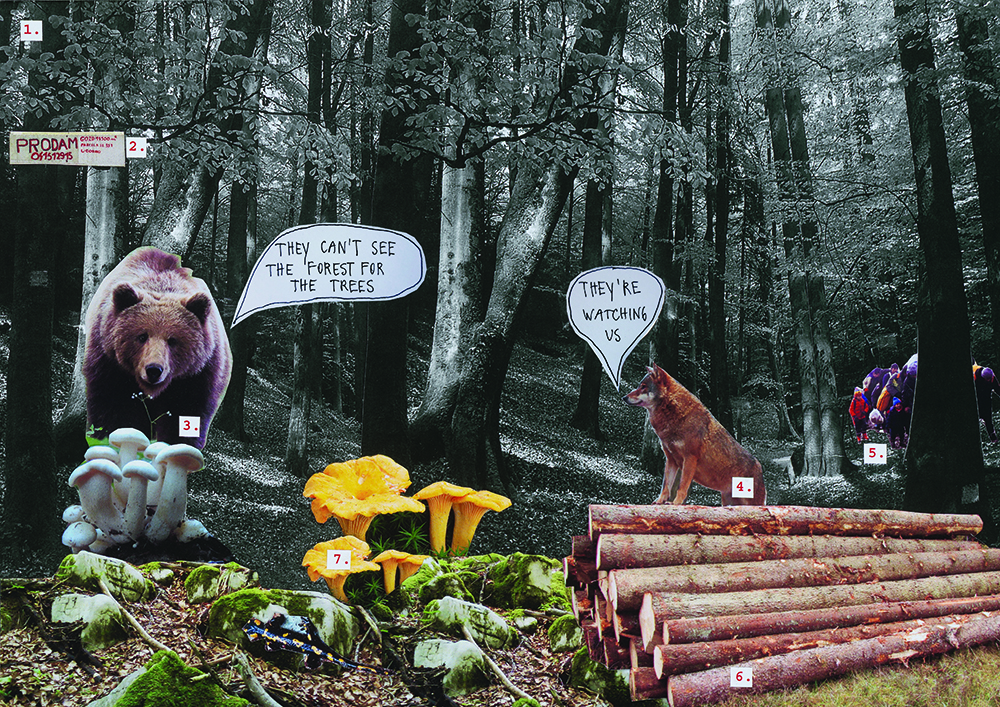 Polonca Lovšin, We Can't See the Forest for the Trees, 2019 – 2021, collage, 40×70 cm
2 – 5 September 2021
booth A05
Polonca Lovšin
We Can't See the Forest for the Trees, 2019 – 2021
cardboard, paper, series of five collages, 40 x 70cm each
edition of. 3 + 1 A.P.
The forest is more than just a collection of trees, it is an oxygen producing factory, a water purifier, a habitat for different species of animals and plants, as well as an extension of our living rooms. In Slovenia, 60% of the land is covered by forest, so we take it for granted. We can learn a lot from the forest; about connectivity, interdependence, stability. A good example is the collective stability that occurs in a forest when the treetops touch. Trees are more resilient in groups than individually.
We Can't See the Forest for the Trees is a series of collages that tackles the complex subject of the forest in the perspective of climate change. The collages link local stories from Slovenian forests to global forest-related events, to the forest's hitherto known functions and new roles manifested in the changing climatic conditions. Incorporated in the images and the legends are facts, statistics, legislation, daily newspaper articles, and people's opinions.
The collages are based on the artist's research into the forest, which she has been conducting in the form of walks, readings, and live dialogue since 2019, together with philosopher Mateja Kurir and art historian and sociologist of culture Urška Jurman.
______
Polonca Lovšin is an architect and artist. She graduated from the Faculty of Architecture (1996) and the Academy of Fine Arts (2001), where she also completed her postgraduate studies (2005). In 2015, she completed her PhD in Visual Arts at the Bauhaus University in Weimar. Her work comprises ideas of self-organisation and the search for alternative solutions for human habitation and action in the perspective of climate change. She is concerned with social topics, autonomy of subject in global society and relationship between system and individual. She inventedly uses recycling strategies, do-it-yourself strategies and humor.
Polonca Lovšin has participated in numerous exhibitions at home and abroad, among them: at Kunstverein Gera, Wysing Arts Centre, Cambridge; A + A Gallery in Venice; KunstlerHaus, Wien; as well as in Hamburg, Paris, Prague, Berlin, Copenhagen, Liege, Bologna, Poznań, Celje, Slovenj Gradec, and at P74 Gallery, Ljubljana. She is a recipient of the 2010 Golden Bird Award ("Zlata ptica") for visual and intermedia arts. She has participated in several international art residencies in Cambridge, Hamburg, Berlin, London, Linz and California.
______
viennacontemporary 2021
2-5 September
Alte Post
Postgasse 10, 1010 Vienna
www.viennacontemporary.at/en/