The publishers and the authors present
This year we are deprived of the Artist Book Fair, so we are offering an alternative form of presentations of the Artist Books in an online format. The participants are:
Nevena Aleksovski, Look Back and Laugh, Mina Fina, Simon Kocjančič, Rostfrei Publishing, The Angry Bat, Jaka Vatovec, Tadej Vaukman, Sergej Vutuc, P.A.R.A.S.I.T.E. Institute.
We are in mid-December and it is time for you to actively support young artists.
More on: Blind Date 2020
__________________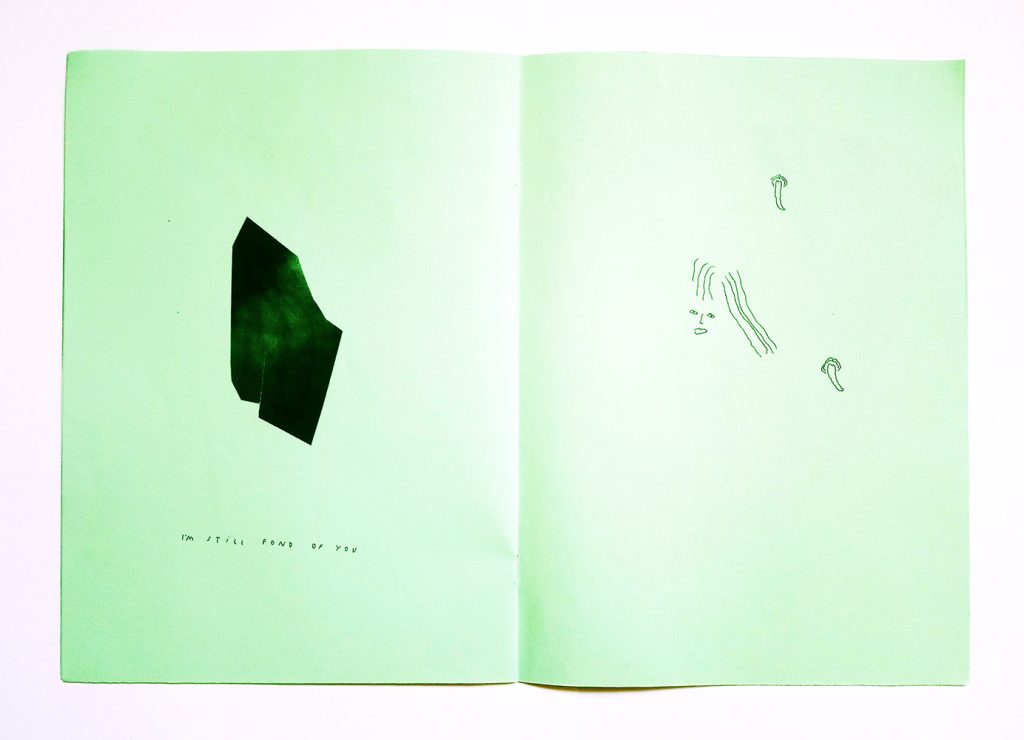 Nevena Aleksovski
The Island, 2020
12 pages, 260 mm x 190 mm, 30 copies, self-publishing
Price: 10 €
Sales contact: nevena.aleks@gmail.com
IG: @nevena.aleksovski
This zine, The Island, was created during my residency at Skalinada artist in residence on the island of Krk. It consists of twelve pages of minimalist drawings, fragmented notes and photo collages inspired by the sea, the sun, rocks, swimsuits, PMS, and solitude.
__________________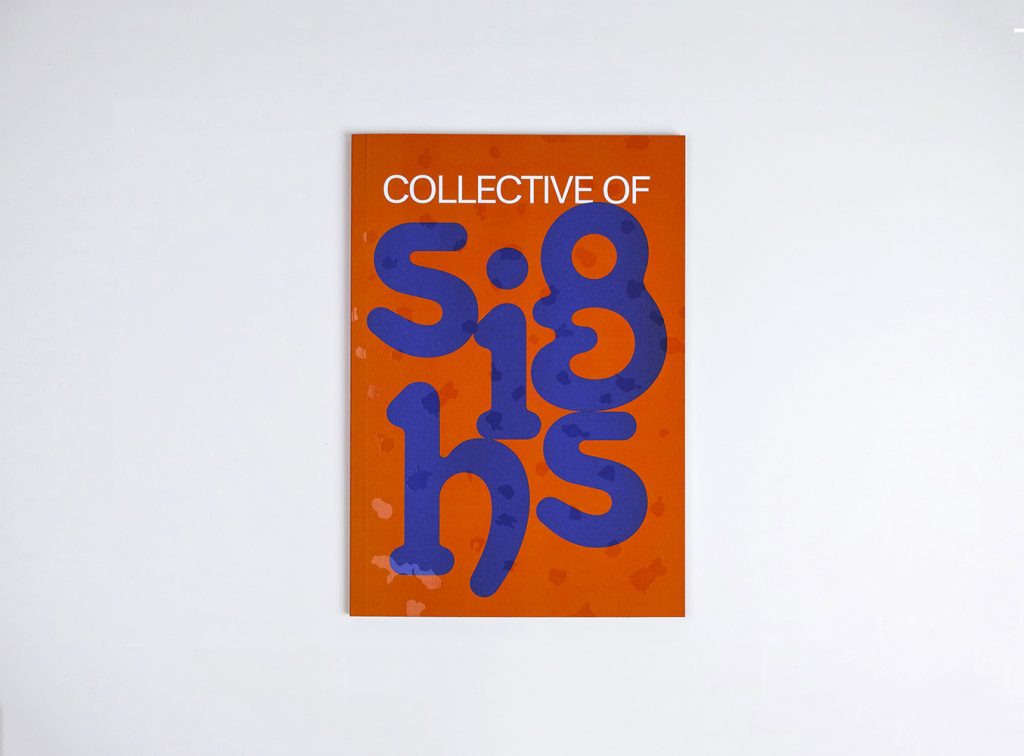 Look Back and Laugh
COLLECTIVE OF SIGHS, 2020
48 pages, 180 mm x 260 mm, 300 copies, publisher: Look Back and Laugh
Price: 20 €
Co-publisher: Museums and Galleries of Ljubljana
Sales contact: lbalbooks@gmail.com
IG: @lbalbooks
A collective sigh is a sigh shared by at least two or more people. The book was conceived as an attempt at artistic reflection of 2020 and the consequences of a global pandemic. Participants in the book: Tjaša Cizej, Marko K. Gavez, Klemen Ilovar, Jurij Lozič, LeaLudvik, Bor Kokelj, Ema Kobal, Matija Medved, Miha Perne, NezPez, Nejc Prah, Sangara Perhaj, Dorijan Šiško, Gašper Uršič, Jaka Vatovec, Tadej Vaukman, Sonja Vulpes, Luna Woelle, Leon Zuodar.
__________________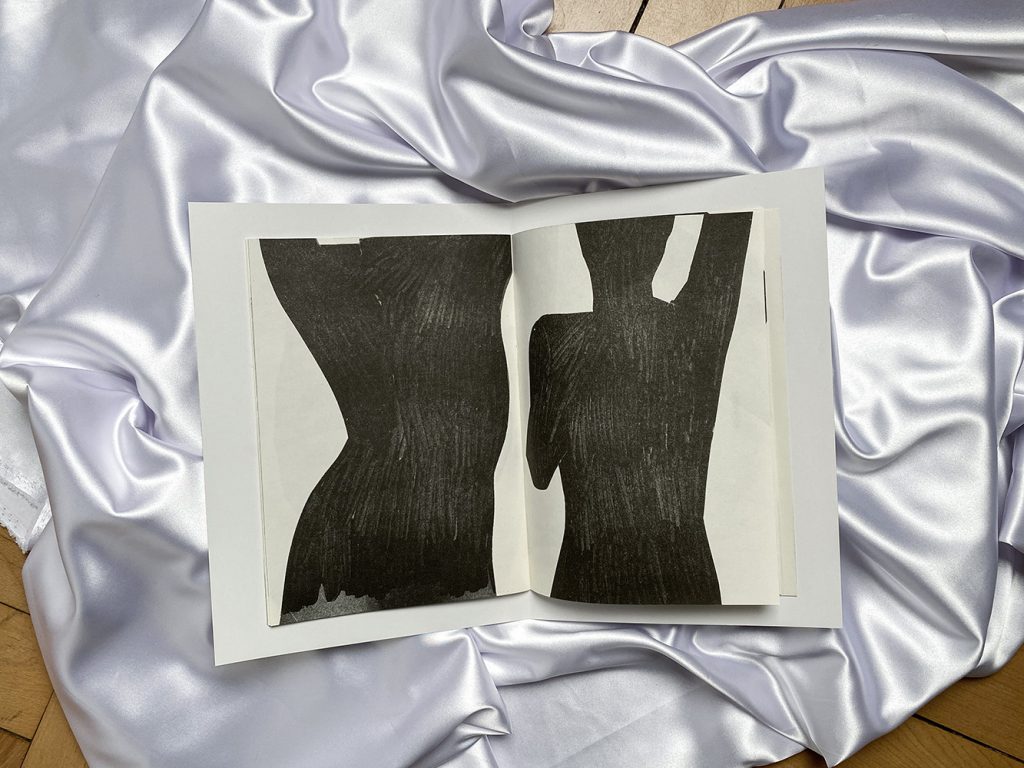 MINA FINA
THIS IS MY LOVE, NOBODY CAN CHOOSE IT FOR ME, 2019
36 pages, 210 mm x 297 mm, 100 copies, publisher: Look Back and Laugh
Price: 20 €
Sales contact: mina.zabnikar@gmail.com
IG: @mina_fina
In her new book, Mina Fina continues to explore the image and representations of the female body. Through her interventions in photographs from old erotic magazines, she questions the normative of body acceptance and places it into abstract compositions that are half drawings, half collages.
__________________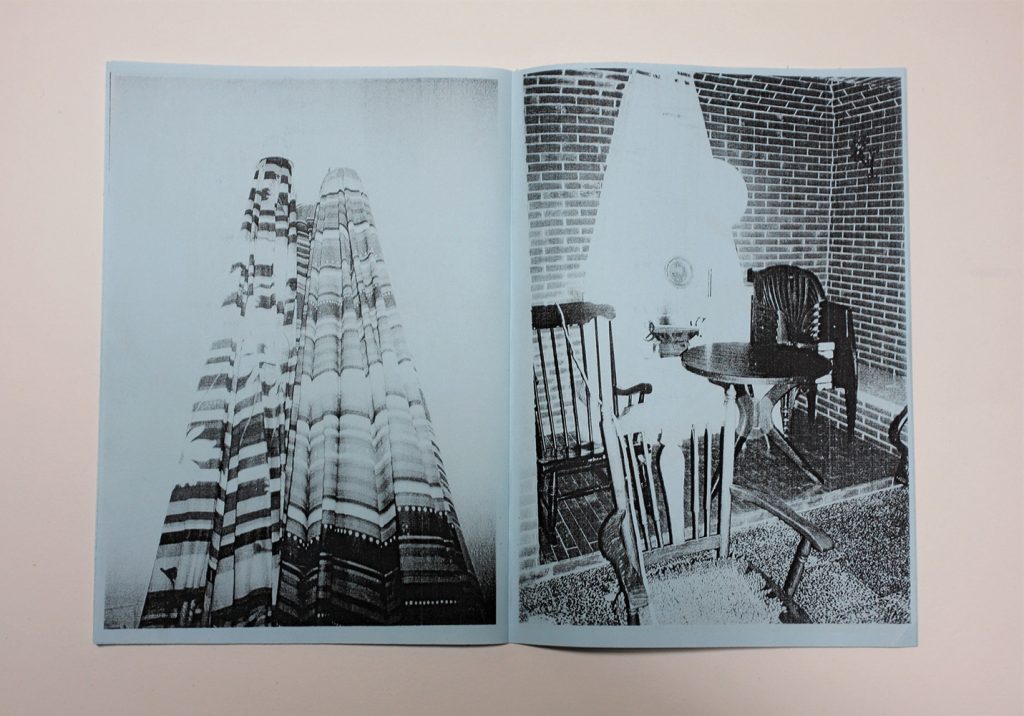 Simon Kocjančič
What I do is secret, 2019
40 pages, 260 mm x190 mm, 30 copies, self-publishing
Price: 10 €
Sales contact: simon.kocjancic@gmail.com
IG: @simonkocjancic
The zine contains photos. Originally made in colour, analogue.
Over a period of ten years. In various homes.
__________________
Rostfrei Publishing
Neja Tomšič, OPIUM CLIPPERS, 2018
40 pages, 200 mm × 270 mm, box size 45 mm × 310 mm x 35 mm, 200 copies, publisher: Rostfrei Publishing
Price: 42 €
Sales contact: www.rostfreipublishing.com
IG: @rostfreipublishing
The artist book Oppium Clippers is based on tea ceremonies through which the artist, Neja Tomšič, tells stories about forgotten episodes in world history to a chosen audience while making and drinking tea. In the second half of the 18th and in the 19th century, tea and opium trade were among the most lucrative businesses in the world and were controlled by great European colonial powers and private corporations.
__________________
The Angry Bat
David Molina, Go to Become, 2018
96 pages, 180 mm x 220 mm, 300 copies, publisher: The Angry Bat
Price: 34 €
Sales contact: sitar.matej@siol.net or theangrybat.com
IG: @the_angry_bat
Go to Become is a fictional document of the Barcelona nightclub scene. Here, the use of alcohol, psychoactive substances, and the beats of techno are a way to achieve a basic state of being in which people are guided by inner instincts, like Werewolves.
__________________
Jaka Vatovec
Eggshells, 2019
24 pages, 100 copies, publisher: Look Back and Laugh Books
Price: 12 €
Sales contact: horrid.habits@gmail.com
IG: @horrid_habits
Eggshells consists of enlarged details of various photocopied drawings. Taken from the original context, they merge into a new, disordered and illogical narrative. The book works as a visual interpretation of the proverb "Making a mountain out of a molehill".
__________________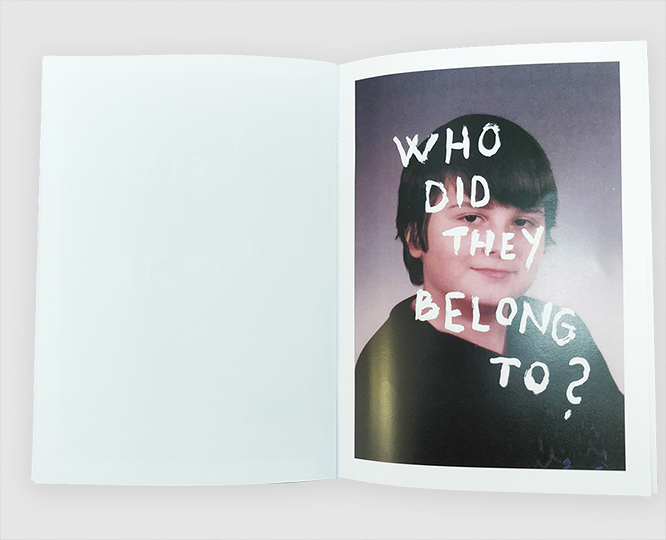 Tadej Vaukman
Pubes, 2019
32 pages, 210 mm x 150 mm, 25 copies, publisher: Zavod P.A.R.A.S.I.T.E.
Price: 25 EUR
Sales contact: p74info@zavod-parasite.si
IG: @vaukman 585
Tadej Vaukman in Pubes uses the same image from childhood on each page of the zin. He combines it with text. The memory of the pubertal experience opens a broader exsistential theme of the author.
__________________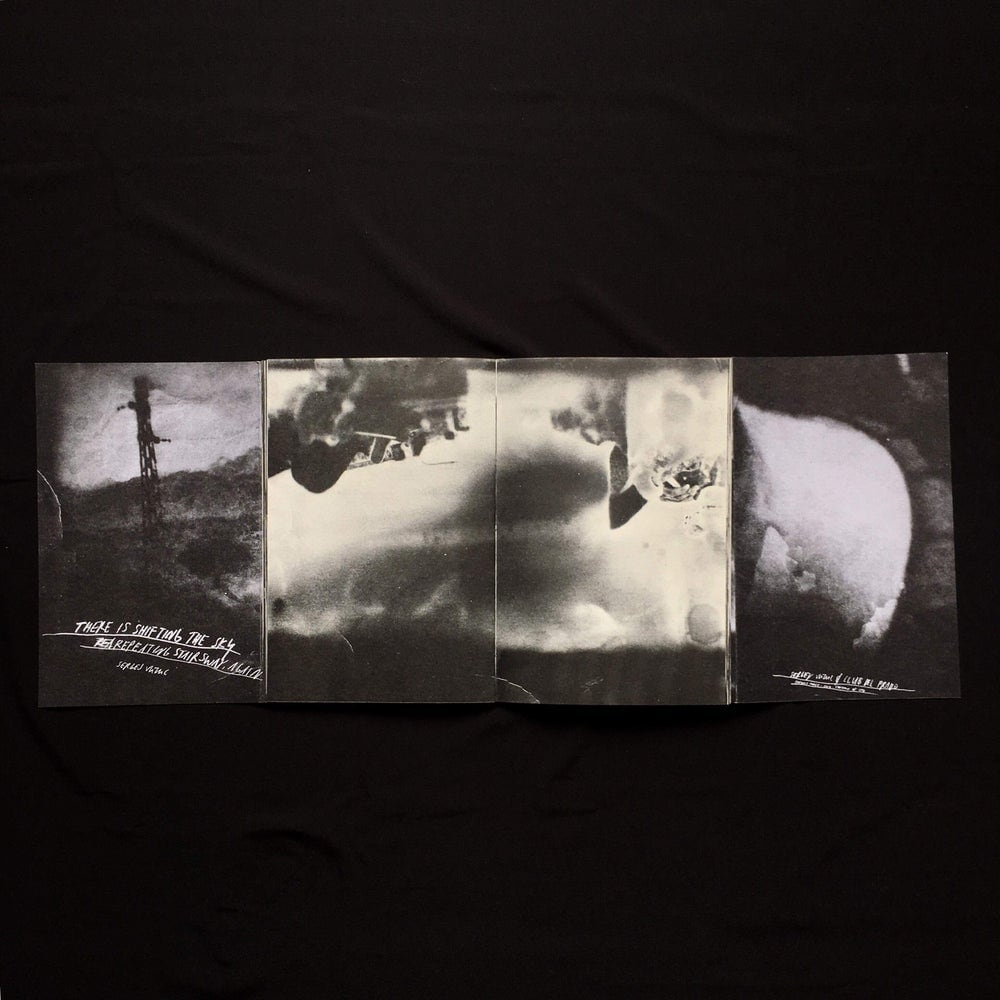 Sergej Vutuc
There is shifting the sky repeating stairsway, again, 2019
40 pages, 282 mm x 194 mm, 150 copies, self-publishing
Price: 30 €
Sales contact: sergejvutuc.bigcartel.com
IG: @sergejvutuc
Shifting the light, liquid, texture, in other words analogue photography, the process … looking for mistakes, unknown, lighting.
__________________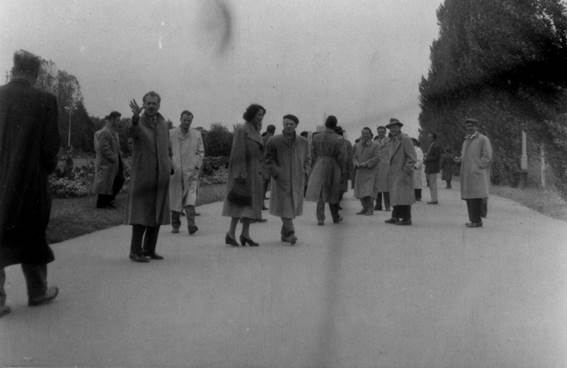 P.A.R.A.S.I.T.E. Institute
Tadej Pogačar, Forester. Memories lost / Gozdar. Izgubljeni spomin, 2020
40 pages, 233 mm x 164 mm, 100 copies, publisher: P.A.R.A.S.I.T.E. Institute
Price: 15 €
Sales contact: p74info@zavod-parasite.si
IG: @ p74gallery
The author used default photos from the family archives, his father's legacy. These are snapshots of everyday life, documents of hanging out with friends, joint trips, travels, images of landscapes. We do not recognize most locations, nor do we recognize people. Father's photos (photos of a forester) are a lost memory.
__________________
VI. Blind Date Convention 2020 (pdf)