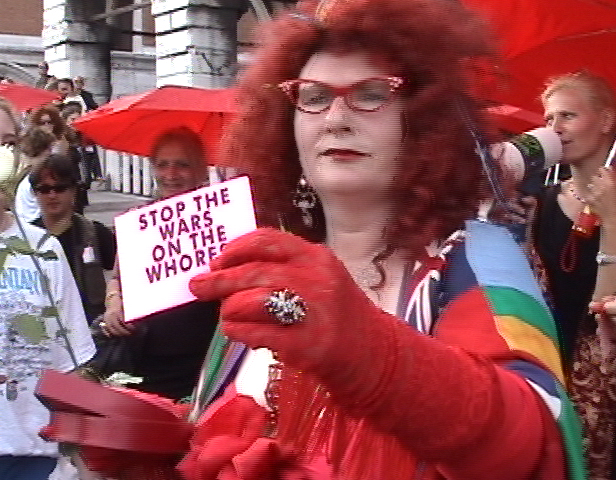 Tadej Pogačar, CODE:RED, The Red Umbrella March, Venice, 2001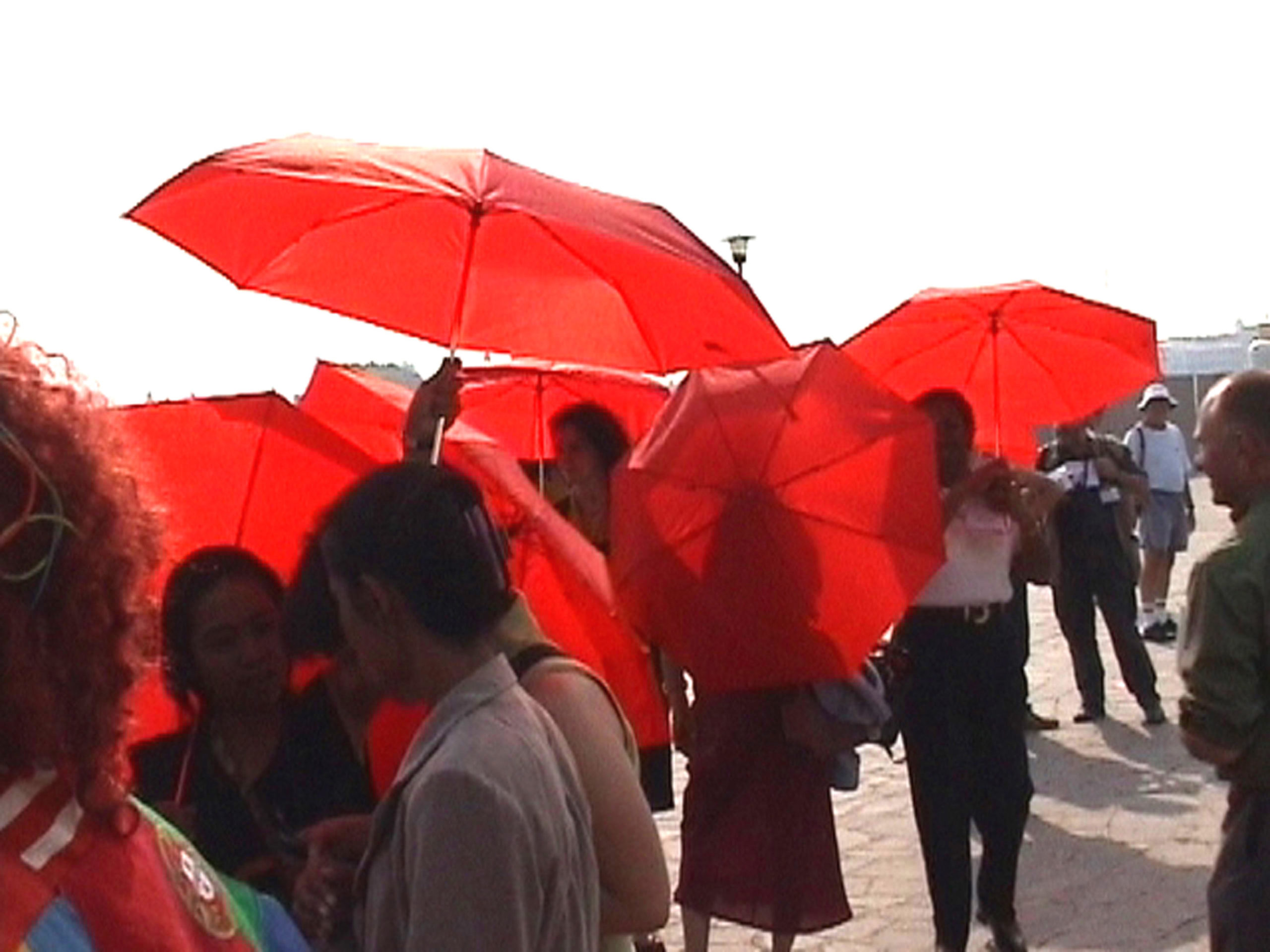 Tadej Pogačar, CODE:RED, The Red Umbrella March, Venice, 2001
P.A.R.A.S.I.T.E. Museum of Contemporary Art returns to the crime scene
Umbəlla. Twenty years of activism under red umbrellas
Casa Punto Croce, Venice
24 – 30 October 2021
______
Twenty years have passed since the first international presentation of the CODE: RED project at the 49th Venice Biennale of Contemporary Art. The audience was presented with the 1st World Congress of Sex Workers and New Parasitism in the Pavilion of Prostitutes (Padiglione delle Prostitute), a tent set up next to the Giardini Park in Venice between 6 and 8 June 2001. The final part featured a public performance, The Red Umbrella March. The congress participants from Thailand, Taiwan, Cambodia, Vietnam, Italy, Germany, Australia and the USA strolled with red umbrellas through the streets of Venice, from the Giardini to the A+A Gallery, where the official Slovenian pavilion was located. This action became legendary. Since 2001, the red umbrella has become an icon and an international emblem of the rights of sex workers worldwide. Today, it symbolizes the protection from abuse and intolerance that sex workers face on a daily basis. It is also a symbol of strength and resilience.
CODE: RED (1999 – present) is a long-standing collaborative project that problematizes and explores the models of the informal economy, self-organization of urban minorities, global sex work, and human trafficking. It includes various forms of joint work and collaboration with experts, activists, and the public, including research, activation, self-help, and public manifestations. The presentation at the Venice Biennale was organized by the P.A.R.A.S.I.T.E. Museum of Contemporary Art and the NGO Comitato dei Diritti Civili delle Prostitute of Pordenone, one of the leading organizations fighting to protect sex workers in Italy.
The Umbəlla project, curated by Agnese Reginaldo, celebrates and praises what has been achieved over the last twenty years while also reflecting on what still needs to be learned for a better future for the sex workers community. But one thing is certain: Where art and activism combine, a powerful instrument of resistance and self-determination can emerge.
______
EVENT CALENDAR
Saturday, 23 October 2021
Press conference with Daniela Mannu (curator), Tadej Pogačar, Hermine Letonde Ablawa Gbedo and Anita Garibalde (CDCP Management Board).
Sunday, 24 October 2021
At 5 p.m.: Participants' assembly in front of the Santa Lucia stop. From there, a parade with red umbrellas will head to Campo San Giacomo dell 'Orio for the opening of the exhibition at 6 p.m.
From 6 p.m. to 8 p.m.: Opening of the Umbəlla exhibition. Presentation of the CODE: RED project by Tadej Pogačar. Performance by Nicole De Leo (LGBTQIA + activist). Followed by a presentation of the book and project United Under a Red Umbrella by Mariska Majoor and Robin Haurissa. The exhibition brings a projection of two video works: CODE: RED Sex Worker (2001–2002) and CODE: RED Venice, 1st World Congress of Sex Workers and New Parasitism (2002). In addition, the books, publications and newspapers of the CODE: RED project will be on view. A series of photographic works by Mariska Majoor and Robin Haurissa, entitled United Under a Red Umbrella, brings the voice of global activism. The book of the same title was published by the Prostitution Health Centre from Amsterdam in 2019 and brings seventy photographs and thirty-two interviews with sex workers from thirteen countries.
Saturday, 30 October 2021
At 6 p.m.: Finissage.
Release of the publication Naked and Organized. Sex Work as Practice and Representation by Agnese Reginaldo. Followed by Puttanesca and a projection of images of global activism. Closing-night party: DJs Silvy and Matteo.
The exhibition will be on view every day between 12 noon and 6 p.m.
According to the anti-covid policy, the number of visitors during the events is limited. To visit, sign up at email casapuntocroce@gmail.com
For all information, please contact the curator agnese.reginaldo@gmail.com