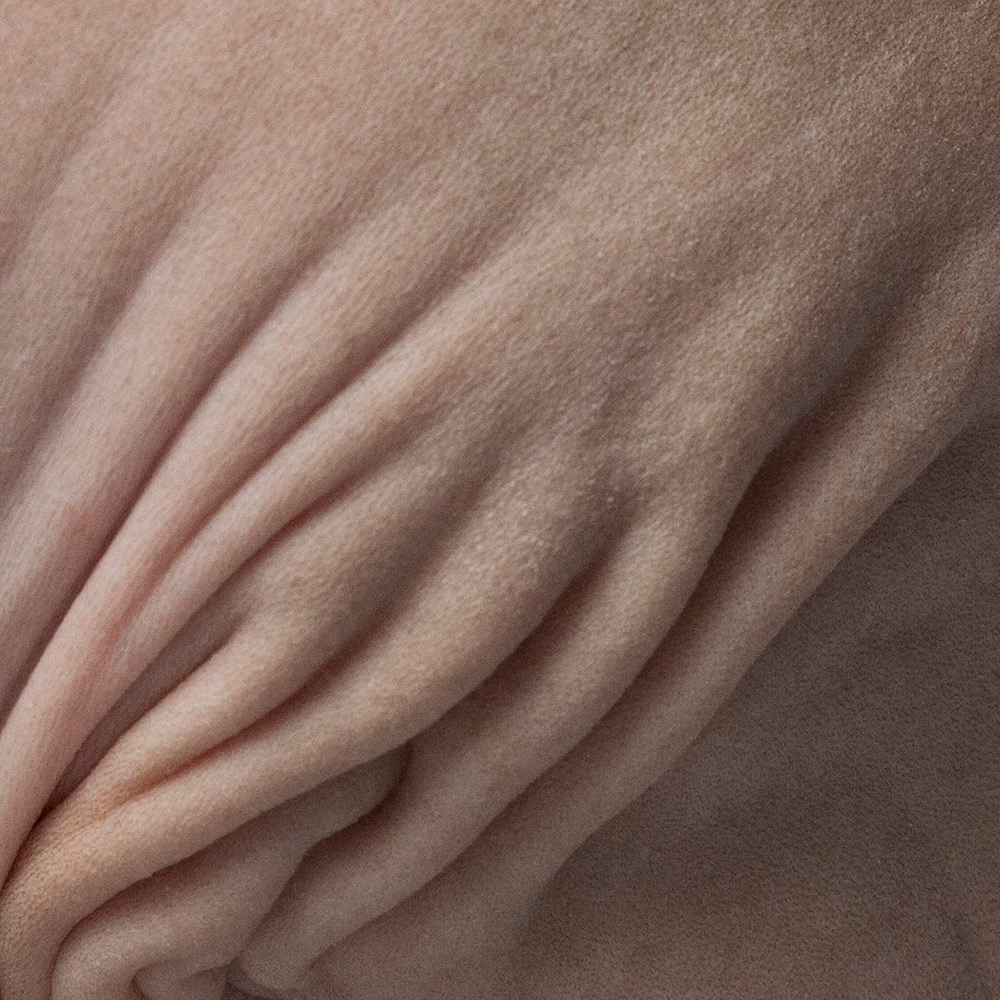 7 – 26 February 2020
P74 Gallery
You are cordially invited to the opening of the exhibition (37,55,58,13) by Rebecca Reja on Friday, 7 February 2020 at 7pm at the P74 Gallery in Ljubljana.
From the very beginning, skin – the largest organ that surrounds and protects the body – has been a special source of inspiration and interest in the artistic creativity of Rebecca Reja. She is interested in the specifics of the skin, its texture, its visual appearance, also its deviations or differences, its wrinkles, the sagging that she observes in the skin of her sphinx cat, characterized by having no fur. In a similar way she also documents the body visually characterized by the autoimmune skin disease vitiligo.
Her recent works represent the core of the current exhibition. A thoughtful juxtaposition of three pieces, Second Plan, Together, and When You'll Be Gone (2018), works as an integral whole. The large-scale painting, Second Plan, is set as a background or grounding. It is dominated by shades of light pink that resemble skin. The paint is applied with thick, wide coats over which clean, straight lines are drawn. The abstractness of the image shows a departure from the initial mimetic approaches. In front of the canvas, the When You'll Be Gone piece is placed, consisting of a silicone patchwork and a metal stand. The patchwork is made of squares of different shades of pink, which turn into orange and brown. The whole hangs like a kind of blanket over a metal stand. The impression of materiality is extraordinary – the patchwork has a fleshy, smoothly effect, and some parts are almost translucent. The individual parts are sewn by hand. The Together piece consists of two small format droplets. The upper part is attached to a buckle that is hung on the nail. The edges are irregular, smooth somewhere, torn elsewhere. Here, the artist experimented with new materials and form.
The objects and paintings of Rebecca Reja effectively explore materiality and direct visual effects. They indicate vulnerability and rawness. They invite you to touch them. What will we feel? Disgust? Cold? Roughness? Abomination? Or something nice?
Rebecca Reja (1995, Koper) is a student at the Academy of Fine Arts and Design (ALUO) in Ljubljana, her major being painting. In addition to painting, she creates in graphics, photography, video, and creates objects. She has participated in several group projects, for example at the Art Hotel, Ljubljana (2016), A3, Academy of Theatre, Radio, Film and Television, Ljubljana (2017), Gallery 7:069: PILOT Episode, Layer House, Kranj (2018), and the Collaboration project, Alkatraz Gallery, Ljubljana.