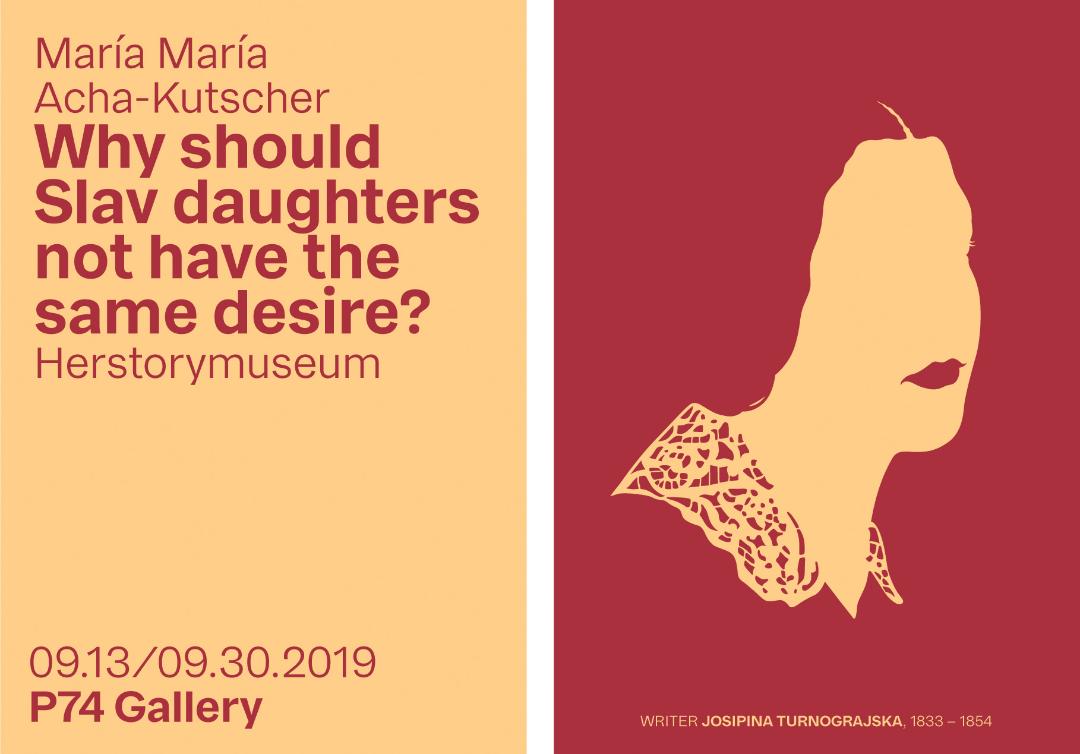 12 – 30 September 2019
P74 Gallery, Trg Prekomorskih brigad 1, Ljubljana
You are cordially invited to attend the opening of the exhibition of María María Acha‑Kutscher Why should Slav daughters not have the same desire? on Thursday, September 12, 2019 at 7pm at the P74 Gallery in Ljubljana.
"Why should Slav daughters not have the same desire?" is an exhibition presented by Herstorymuseum, an imaginary museum created by artist María María Acha‑Kutscher. The curatorial premise of the museum is to develop a rhizomatic and nonhierarchical narrative on women creators of the 20th century, through a visual language similar to pictogram, created by the artist. These pictograms, which never stop growing, make up the permanent collection of the museum. The exhibitions of Herstorymuseum take place in public spaces, art centers and art galleries, always starting with an image, a word, or an iconographic element, in order to establish intuitive relations between different creators and works, thus developing an alternative art history.
The title of the exhibition is a quote from a statement by writer and poet Josipina Turnograjska (1833–1854). "Why should Slav daughters not have the same desire?" and offers a particular interpretation of the transformation of female consciousness and imaginary in Slovenian culture. This vision is based on an investigation on women creators of premodern and modern era who contributed to the culture as we know today: writers, artists, architects, choreographers, dancers, thinkers, feminists, even politicians, as well as men and women from different countries and times who are related to these creators.
Acha-Kutscher has translated all the information she found into drawings and texts to create a narrative of Slovenian modern woman. This is not an academic research. It is a vision of an artist who faces an unknown world to make it her own and convert it part of Herstorymuseum.
María María Acha-Kutscher (Lima, Peru, 1968) is a visual artist based in Madrid, Spain. She co-directs with Tomás Ruiz-Rivas the experimental art project Antimuseo. The main focus of her work is woman: her story, the struggles for emancipation and equality, and the cultural construction of femininity.