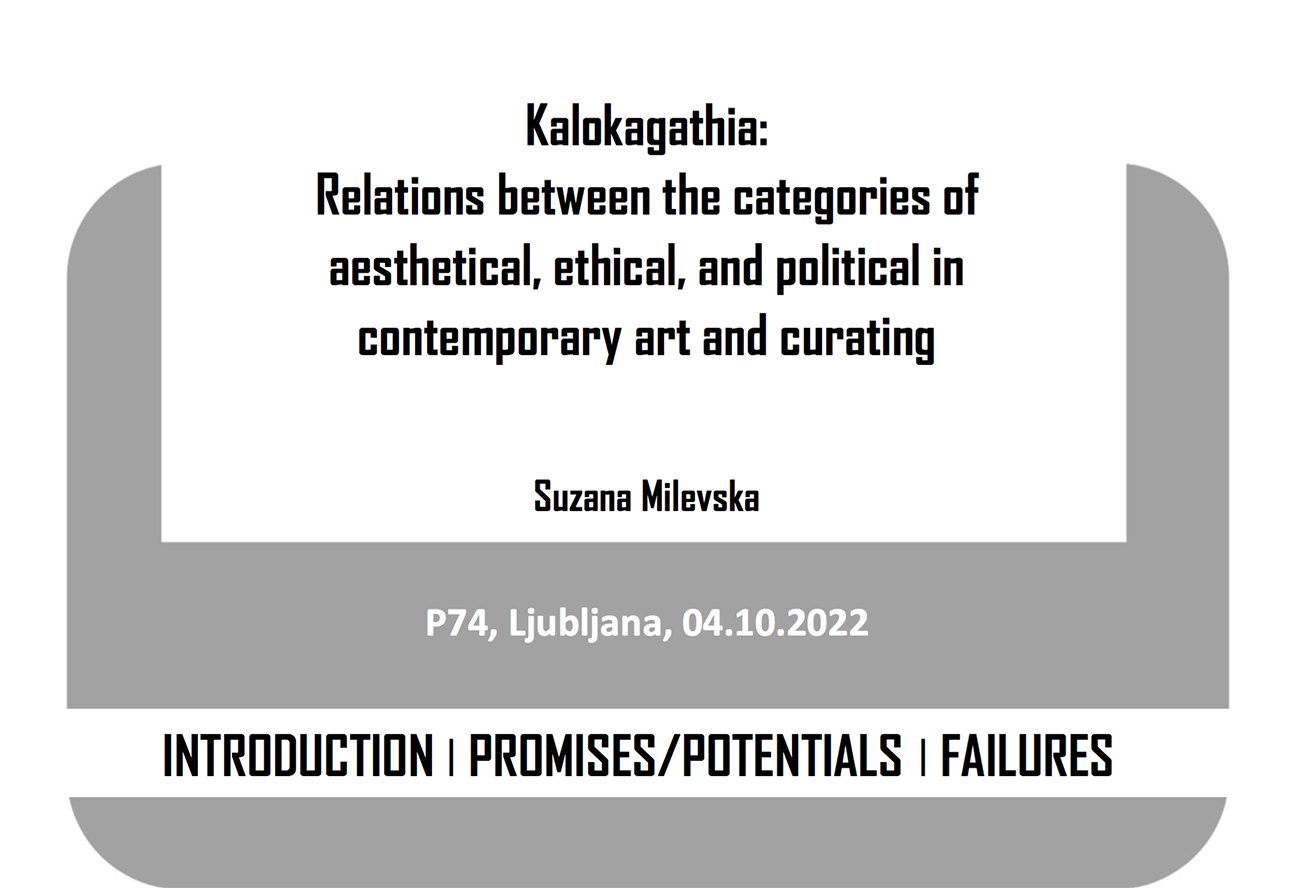 Photo: P74 Gallery Archive
4 October 2022, 6 pm
P74 Gallery
You are cordially invited to attend the public lecture by Suzana Milevska »Kalokagathia: Relations between the categories of aesthetical, ethical, and political in contemporary art and curating« on Tuesday, October 4th, 2022, at 6pm at the P74 Gallery.
The lecture is part of this year's Blind Date Convention.
>Please don't be late as the main entrance is closing at 6.15pm.
______
Suzana Milevska
Kalokagathia: Relations between the categories of aesthetical, ethical, and political in contemporary art and curating
This lecture focuses on the ongoing debates about the reciprocal relations and tensions between the categories of beautiful and good, between the form and content, and between other dichotomic concepts that although emerged during modernism still affect the discursive field of contemporary art. Milevska starts from the ancient Greek notion of kalokagathia as a bridge between the realms of aesthetical, ethical, and political. However one of the main offerings of this essay is the challenging of the renowned Walter Benjamin's dichotomic distinction between 'politicisation of aesthetics' and 'aesthetisation of politics' that in Milevska's opinion is not necessarily exclusive and negative since these concepts are intertwined and one does not preclude the other. The lecture will also reflect about the role of the visual images and objects as catalysts of social change on the one hand, and about the role and agencies of the subjects – artists, activists, and curators as instigators of such transformative aesthetical, ethical, and political processes, on the other hand. The relations between images, objects, and subjects will be discussed through a closer look at various artistic strategies and art practices that intend to induce social change – in order to explore the aptitudes and amplitudes of the socio-political and economic commitment assumed and promised by such practices. Far from suggesting that the aesthetical value of art could be weighed-in only depending on the magnitude and range of the accomplished changes it's relevant to challenge and compare the affordance of different art projects for channelling various communities' dissent and for confronting socio-political and economic injustices.
______
Suzana Milevska is a theorist and curator of visual art and culture from Skopje, North Macedonia. Her theoretical research projects employ postcolonial and feminist institutional critique of representational regimes of hegemonic power in arts and visual culture. She is interested in the deconstruction and decolonization of contentious cultural heritages in art institutions, collections, and public spaces. From 2016 to 2019 Milevska was Principal Investigator of the EU Horizon 2020 project TRACES – Transmitting Contentious Cultural Heritages with the Arts, Polytechnic University Milan, and she curated its final exhibition Contentious Objects/Ashamed Subjects. From 2013 to 2015 she was Endowed Professor for Central and South Eastern European Art Histories at the Academy of Fine Art Vienna and was also teaching at TU in Vienna. She also lectured various courses and lectures at other universities and art institutions in Skopje, London, Oxford, New Delhi, New York, Chicago, Boston, Stockholm, Gothenburg, Vienna, Mexico City, Montreal, Tokyo, Milan, Oslo, Ljubljana, Innsbruck, Sheffield, Berlin, etc. She holds a PhD in visual cultures from Goldsmiths College London and in 2004 she was Fulbright Senior Research Scholar. In 2012 she won ALICE Award for Political Curating and Igor Zabel Award for Culture and Theory. She published the books Gender Difference in the Balkans, 2010, The Renaming Machine: The Book, 2010, On Productive Shame, Reconciliation, and Agency, SternbergPress, 2016, and contributed numerous texts to various collections of essays and journals.