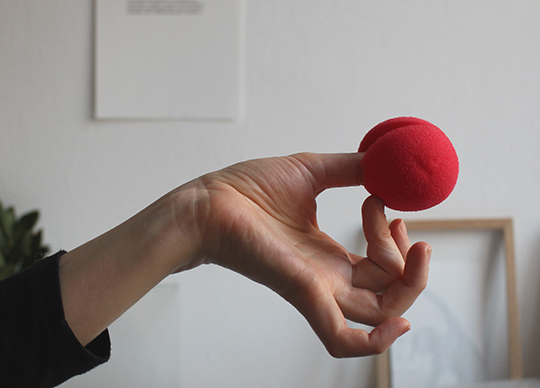 6 – 27 March 2019
P74 Gallery, Trg Prekomorskih brigad 1, Ljubljana
You are kindly invited to attend the opening of the exhibition of Alja Piry Could have fooled me on March 6, 2019 at 7 p.m. at the P74 Gallery in Ljubljana.
The intimate mediums of drawing, journaling, artist's books, short videos and photo documentation are closest to Alja Piry. She places individual visual elements into multimedia installations, in which the overall impression is one of playfulness. Her work is considerably influenced by conceptual art, which reveals itself through her minimal interventions into the space, the inclusion of the public and the use of texts; she also makes use of appropriation and quotes.
The photographic series Could have fooled me directly relates to Marth Wilson's 1974 work A Portfolio of Models in which she performed six self-portraits showing various archetypes of femininity, represented by changing clothes, playing roles and an accompanying text. The series by Alja Piry is also made of photographs and an accompanying text, yet it does not reflect on the role of woman in society (her sexuality or intellect), but rather on the professions that she carries out along with being an artist. Alja works in the atelier of a social-psychiatric institution, in which she supports visitors and follows their creative work. Here she passes through various roles and presents each role on the photo with a different hand gesture. Added to the image is a text directly addressing the viewer written in first person. The dialogue creates a feeling of intimacy. In the work, Alja Piry reveals her own situation in which she sees the tasks of the profession as some type of instructions for performing. This enables her to maintain a distance, when she decides between caring for herself and for others, between supporting the creativity of others and her own creative activity.
The second photographic series Placeholders shows the artist lying on different locations in the public space. We can only anticipate her identity, since she is almost completely covered by a red blanket. It seems to be a continuation of the previous series, since we can read it as a string of breaks taken while playing various social roles.
Social relations, changes, reform, the power of connecting, individuality, the role of the artist in society and women's creativity are themes that Alja Piry emphasizes in her work. She does so thoughtfully, with small gestures and maneuvers.
—
Alja Piry (1982, Ljubljana) graduated in 2007 from the Department of Art History at the Faculty of Arts, University of Ljubljana. She studied painting at the University of Applied Arts in Vienna and at the HKU University of the Arts Utrecht and earned her master's in 2010 in Vienna. In 2012, she was one of the nominees for the OHO Group Award. She has presented her work in a number of solo and group exhibitions, among them: In morda tudi (And maybe also), DLUL Gallery, Ljubljana (2017); Private view, MAXXX Project Space, Sierre, CH (2015); Prostorje besed (Space of Words), Media Nox, Maribor (2015); In, Out and Art, Forum Stadtpark, Graz, AT (2014); The New Wave, Watch out for children!, P74 Gallery, Ljubljana (2014); Prints and Impressions, MGLC, Ljubljana (2012); Andante, Musa Startgalerie, Vienna, AT (2012/solo). She has presented her artist's books on exhibitions in Ljubljana, Vienna, Belgrade. She has been active on artist residencies in Budapest (Kulturabteilung der Stadt Wien 2017), in Sierre (Residency Villa Ruffieux, 2015) and in Berlin (Ministry of Culture of the Republic of Slovenia 2013). She also supports the creativity of others: in 2014 at Atelier Neuhauserstadel, Institut Hartheim (AT) and from 2015 on in the Open Atelier Gugging.
—
The programme of the P.A.R.A.S.I.T.E. Institute is supported by the Ministry of Culture of the Republic of Slovenia and by the Municipality of Ljubljana, Department for Culture.