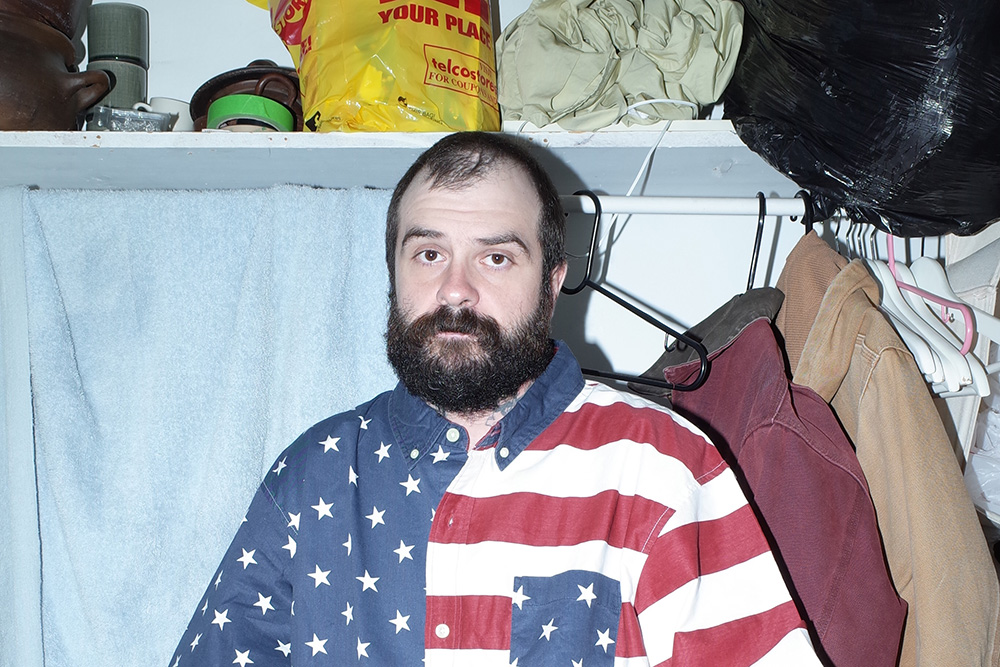 14 January – 2 February 2020
P74 Gallery
You are cordially invited to the opening of the exhibition Ritual Purification by Tadej Vaukman on Tuesday, 14 January 2020 at 7pm at the P74 Gallery in Ljubljana.
At the 2019 OHO Group Award Nominees Exhibition, Tadej Vaukman exhibited a monumental format photo, That Night in the Basement (2019). Through this work he shifted his focus away from obsessively documenting the outside world to himself. The direct, even sexually explicit, scenes of skate culture, night drinking, and the motifs of his grandparents' living environment were replaced by a self-portrait. His new topics of choice include an exploration of the personal and of repressed memories that we turn a blind eye to, not wanting to talk about them. He left for an artist residency in the USA with the question: "In what ways can a radically different, completely new environment affect you?"
The Ritual Purification exhibition features works that have mostly been created in New York. There, at some bookstore, he accidentally came across David Michael Wojnarowitz's book Weight of the Earth. He did not know this American artist, but his autobiography, made with transcriptions of sound recordings, made a strong impression on him. He identified himself with the depressing atmosphere that pervades the book – its author had been recording himself in his room in that very city, lonely, even sick. That book represents the starting point of the project and marks the moment when he realized that he needed to move on and start to incorporate new procedures of artistic expression. Not surprisingly, the trigger was an encounter with the book, as he holds a bond with a book as a medium. He has repeatedly presented his photographs in fanzines or Artist Books, but this time it is not a classical form of presentation but an appropriation. As the Artist Book is exhibited closed and framed, it prevents us from reading; we can only read the author's name and the title of the book, which bears the meaningful phrase "the weight of the world".
The photographs followed – again, a self-portrait, in which he poses standing in a room. He is dressed in an American-flag T-shirt, and his residential living environment resembles his previous photographs of interiors full of plastic bags, unusual objects and intriguing details. What is new, however, is a direct physical intervention in photography. The author applied thick coats of a mixture of colour and bodily fluids to a photo, covering the face in various layers and widths. He repeats this in four versions. It is an experimentation with a technique whereby he creates minimal differences of the same motifs, on which, however, only a part of the face is unveiled at a time. Vaukman's latest Artist Book, Pubes (2019), similarly repeats the motif of a self-portrait from his childhood. Each page contains a text that represents a memory of a first erotic experience. New works can therefore be seen as a logical continuation, especially in formal terms, but also in content. In previous series and projects, we have observed a broader picture of the author's life, his social environment, but now he dissects himself, his own hidden intimacy, in detail. Self-exposure is also manifested in physical intervention in photographic images, gestures or writing, and is most clearly expressed in the repetitiveness of the self-portrait motif.
The exhibited works are characterized by features that are typical of Vaukman's previous production, namely, specific aesthetics with unusual compositional approaches, choice of motifs, directness. Spontaneity and uncensoredness make us feel as if we are within the narrative that the artist conveys to us. A kind of discomfort prevails, as we seem to be observing something we should not. At the same time, the Ritual Purification exhibition shows the transformation of the artist in a personal and artistic sense, and brings moments of this process that have thickened and intensified right at and after the artistic residency. The questions he asked himself before coming to New York – what will be his attitude towards himself, what will affect his self-image and his perception of his own past – received the first set of answers through the current exhibition.
Tadej Vaukman (1984, Dravograd) is an independent artist and photographer. In 2019, he received the OHO Group Award. He is the founder of the 585 ZINES publishing project. He lives and works in Ljubljana. In recent years, he has exhibited in several solo and group exhibitions. Solo exhibitions: Larry #2, Pivka House of Culture, Pivka (2017); Spaghetti Boys, P74 Centre and Gallery, Ljubljana (2016); Larry, GT22, Maribor (2015). Group exhibitions: Viennacontemporary 2019, NSK: State in Time, Vienna; OHO Group Award Nominees Exhibition 2019, Centre and Gallery P74, Ljubljana; Precarious Environments: 17 cases of contemporary photography in Slovenia, +MSUM, Ljubljana (2019); Grandheroes, Guillaume Daeppen, Gallery for Urban Art, Basel, Switzerland (2018); Triennial of Contemporary Art in Koroška, Museum of Modern and Contemporary Art Koroška, Slovenj Gradec (2018); ZINES! Contemporary Zine Production, International Centre of Graphic Arts, Ljubljana (2017). In 2015, he published his debut photobook Dick Skinners, and in 2018 the book Grandheroes (both published by Rostfrei Publishing).