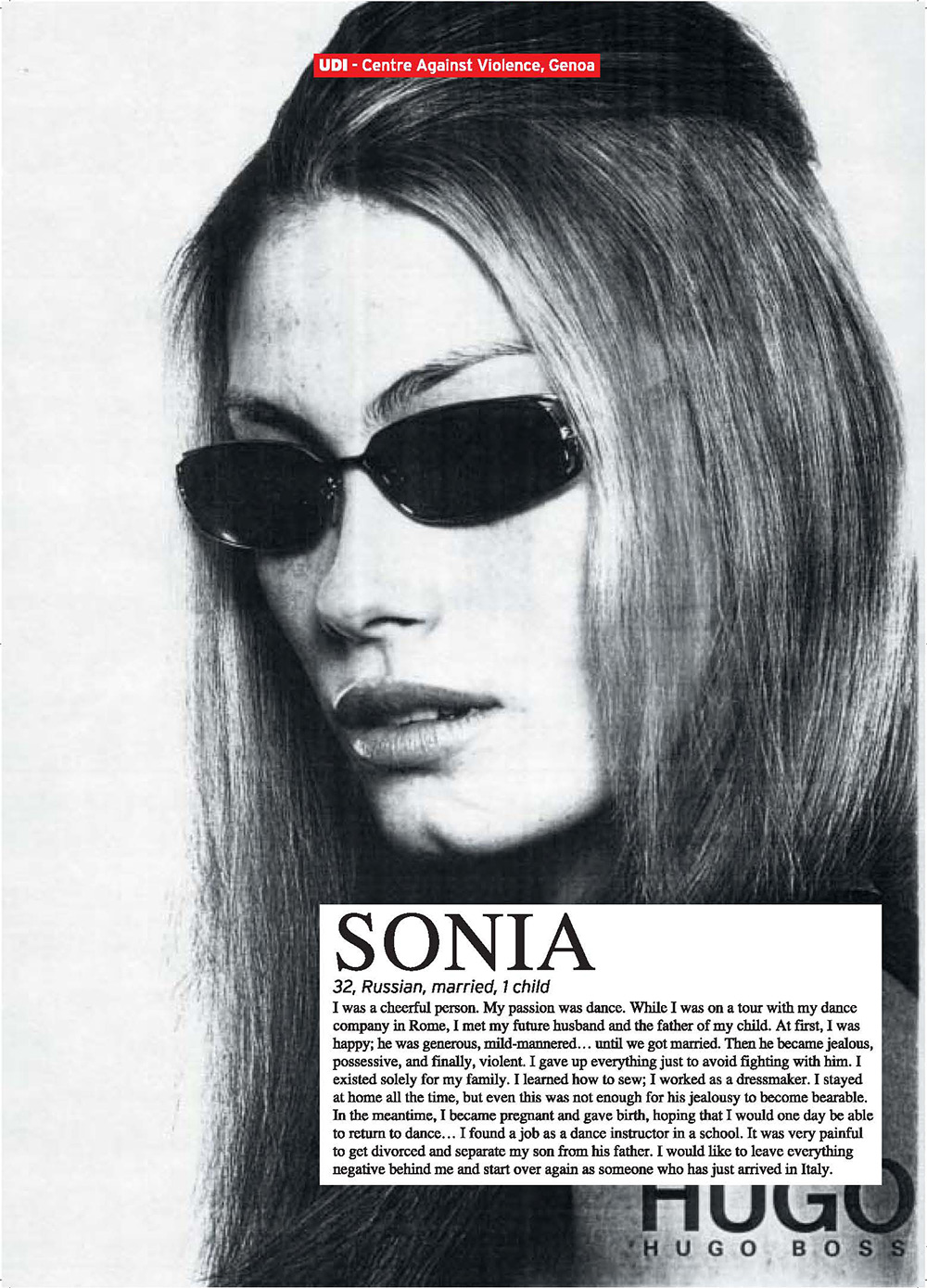 Women's House (The Sunglasses), 2002-2004
4 – 25 September 2018
P74 Gallery, Trg Prekomorskih brigad 1, Ljubljana
You are kindly invited to attend the opening of the exhibition of Sanja Iveković COOPERATIONS on September 4, 2018 at 8 p.m. at the P74 Gallery in Ljubljana.
Curated by: Bojana Pejić
—
By using the term COOPERATIONS (in plural) as the title of this exhibition, we carry on a convention instituted either by the artist herself or the curators of her larger solo shows and retrospectives. Namely, her exhibitions are mostly entitled after one of her own works, like, for instance, Personal Cuts (Galerie am Taxispalais, Innsbruck, 2001), General Alert (Kölnischer Kunstverein, Cologne, 2006, itinerary exhibition), Trening czyni mistrza / Practice Makes the Master (Muzeum Sztuki, Łódź, 2009), Sweet Violence (MoMA, New York, 2011/2012), Waiting for the Revolution (MUDAM, Luxemburg 2012) and more recently, Pearls of Revolution (Luka, Mul and Anex Galleries, Pula, Croatia, 2016). This may suggest that she, as an artist, is very good at titles (not all artists have that skill) since indeed her titles are never vague or meaningless: they are direct, precise and simple.
The title COOPERATIONS, however, does not come from any of the works that she has signed as a visual artist. Instead, it tries to refresh the memory of her feminist activism. Back in 2000, Sanja Iveković, an artist-citizen and public intellectual who was then the founder of the NGO organization Electra in Zagreb, initiated and organized an international event entitled Co-operation: The International Forum for Feminist Theory and Art Practice. In September of that year, she invited us to Dubrovnik, some thirty professional women – visual artists, art critics, curators and theorists, all art workers from Eastern or Western Europe as well as from the USA. In contrast to her own artworks which have a visual presence and therefore can be exposed to reproducibility (in catalogues and other publications), this event, in which Iveković worked not as a project leader but as cooperator, bypassed any visual representation. The conference was activism-in-practice, an exchange of experiences we had gathered in work and in life. It was held in an atmosphere of solidarity, establishing a politics of friendship among women, which, since the 1970s, lies at the core of Iveković's feminist worldview.
Currently, at P74 Gallery, the exhibition COOPERATIONS presents three collaborative initiatives, each of which emerged from Iveković's cooperation with a number of working women. Two of these take the form of artworks while one is a collaborative project that relates to a specific artwork of Iveković. In all cases, the collaborations concern major social issues running throughout Iveković's thought and practice: antifascism, restrictions imposed on women by nationalist ideologies, and the representation of women's labor. In addition, they reflect her lifelong engagement with the technique of collage/montage.
The first is Art of the Possible: Towards an International Antifascist Feminist Front, intended as an aural, activist intervention in urban space and developed collaboratively as a response to Iveković's public work Monument to Revolution, produced in Athens for Documenta 14 (2017). A work-in-progress, the monument is a re-enactment of Mies van der Rohe's Monument to Rosa Luxemburg and Karl Liebknecht, which was also known as Monument to Revolution (1927–1932/35). In Athens, Iveković's own Monument to Revolution was partly reconstituted with locally produced materials: bricks recycled from the districts of Omonoia, Monastiraki, Syntagma, Lipasmata and the port of Piraeus. Addressing the complex politics of Monument to Revolution, Art of the Possible was an initiative of art theorists and writers Angela Dimitrakaki and Antonia Majača in collaboration with Sanja Iveković, – engaging, that is, three women who have been practicing their politics of friendship. Art of the Possible brought together the voices of about thirty female activists, artists, poets, theorists or collectives who were asked to provide short recorded statements on the possibility of, and need for, an antifascist feminist front across and beyond borders. This sound-based, multilingual, cooperative intervention could be heard in the vicinity of Monument to Revolution set in Avdi Square in central Athens.
The second work, Women's House (The Sunglasses), is a series of poster size images which belong to Iveković's long-term project Women's House, initiated in 1998. It was based on the cooperation she established with women's centers in many countries sheltering women subjected to domestic violence. The same issue is at work in her photo-series produced between 2002 and 2004 and titled Women's House (The Sunglasses), which also focused on domestic violence against women. She again opted for the procedure of collage/montage, using fashion ads for sunglasses that she confiscated from women's journals, onto which she inserted statements by women who speak about abuse.
In Women's House (The Sunglasses), shown in this exhibition, the focus has shifted from domestic violence to state violence against women's rights – in this case, women's right to decide about and plan motherhood, including the right to terminate a pregnancy. Even if in a state such as Poland abortion is severely restricted (effectively banned) explicitly by law, the anti-abortion "condition" as manifest in Pro-Life movements exists in many countries. The nationalist ideologies which haunt not only Europe require aggressively a "bigger" nation, which necessitates the "nationalization of women's wombs". In the series, Iveković presents statements by women from Poland, Turkey, Italy, Croatia, who (hidden behind black sunglasses) talk about the reasons for terminating their pregnancies.
Addressing women's manual labor, The Invisible Women of Erste Campus (2016) is the third piece on show. In its original setting, the series of videos is permanently installed in various locations across the office premises of the new Erste Campus building in Vienna. Each video presents a woman worker who performs "invisible" labor (night cleaners, women working in the cafeteria). These service economy laborers are also immigrant workers. They relay their migrant experiences and recite poems of their choice written by Croatian poet and activist Aida Bagić. In Ljubljana, this work will be presented as a single-screen installation.
Cooperators: Sanja Iveković and Bojana Pejić
—
'The Art of the Possible' Towards an International Antifascist Feminist Front initiated by art theorists and writers Angela Dimitrakaki and Antonia Majača in cooperation with Sanja Iveković. Contributors include: Mujeres Públicas (activist art collective, Argentina), Elke Krasny (art theorist, Austria), Jaleh Mansoor (art historian, Canada), Cecilia Vicuña (artist, poet, Chile), Vesna Kesić (activist and writer, Croatia), Frederikke Hansen and Tone Olaf Nielsen (CAMP founders, Denmark), Mare Tralla (artist and activist, Estonia/UK), Arahmaiani (artist and activist, Indonesia), Giovanna Zapperi (art historian, Italy/France), Isabell Lorey (political theorist, Germany), Athena Athanasiou (social theorist, Greece), Phoebe Giannisi (poet, Greece), To Mov/The Purple (feminist collective, Greece), The Organization of United African Women (Migrant Women Association, Greece), Larissa Vergou (actress and elected councilor of Athens Municipality, Greece), Universal Jenny (poet, Greece), Dilar Dirik (writer and activist, Kurdish Women's Movement), Sylvia Marcos (writer and activist, Mexico), Syreny. tv, Ewa Majewska & Aleka Polis (feminist network, Poland), Ana Teixeira Pinto with Alex Martinis Roe (writer and artist, Portugal/Australia/Germany), Gülsün Karamustafa (artist, Turkey), Esther Leslie (political and cultural theorist, UK), International Women's Strike (USA), The National Women's Liberation (USA), Kristine Stiles (art historian, USA), Martha Wilson (artist, USA), Bojana Pejić (art historian, Serbia), Shubigi Rao (artist and writer, Singapore), Nuria Enguita Mayo (art historian, Spain), Le Zbor (Feminist Choir, Zagreb), Revolutionary Association of the Women of Afghanistan (RAWA). The sound file was compiled by the feminist electronic musician and performer AGF (Germany/Finland). Invisible Women of Erste Campus initiated by Sanja Iveković in cooperation with the cleaning ladies: Rodika Gutman, Carmen Krestan, Danijla Milatinovic, Ana Brunsean, Ana-Maria Pitu, Begzada Hasanović, Katherina Jackowska, Mikka Zečević, Viorica Konradi, Angela Mutu, Laura Jasarević, Elfete Hachioj, Refija Fejzic, Mevlida Jahić, Vesna Sudaković, Ramizja Osmani, Mariana Andronig, Halida Balta, Dzevida Abdurahmanović. Sunglasses (Women's House) initiated by Sanja Iveković in cooperation with: Mihaela, Kristina, Ana, Marica (Autonomous Women's House, Zagreb); Sonia, Veronica, Mercedes (UDI-Transitional Living Centre against violence, Genoa); Canan, Burcu, Yasemin, (Mor Cati: Women's Shelter, Istambul), Magda, Violeta, Agnieszka (Polish Federation for Women and Family), Marie (Fraenhous, Luxembourg), Dolores (Društvo za nenasilno komunikacijo, Ljubljana).
—
The project was supported by: The Ministry of Culture of the Republic of Slovenia and The Municipality of Ljubljana