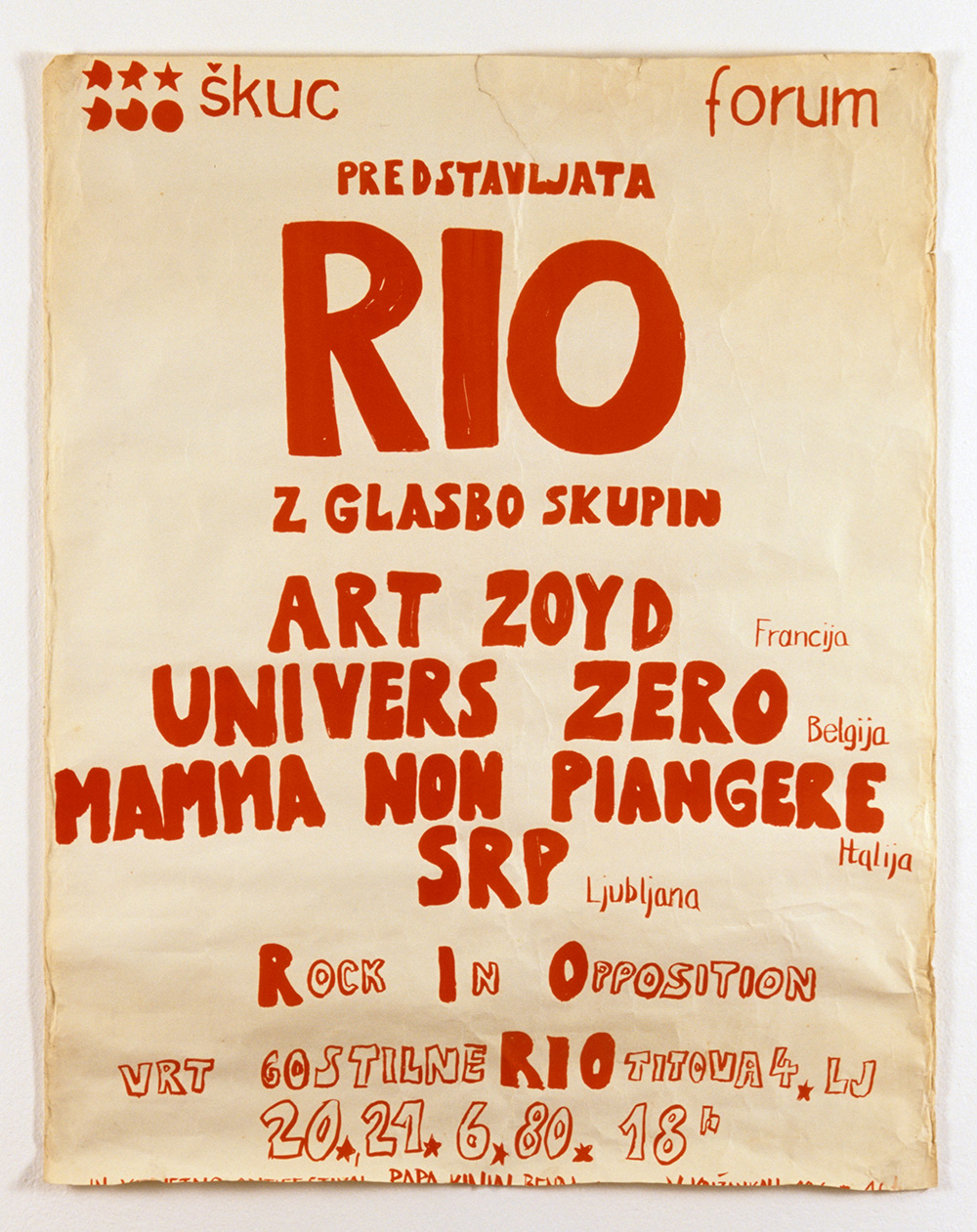 5 – 24 November 2019
P74 Gallery
The RIO exhibition project marks the era of independent and alternative culture of the 1970s and early 1980s, which, due to its exceptionality, has not yet received the attention it deserves. In his research on popular music, Nenad Vujić points out that for various reasons, rock music in Yugoslavia never reached the status of a subversive underground movement, as was the case in other socialist countries in the 1970s. This status was, so to speak, fully accrued to the punk movement and its derivatives. The monolithicity of punk was unprecedented, especially when compared to similar scenes in the West. This fact severely restricted the free flow of information on other forms of non-commercial musical creativity. Three non-conformist and recognizably distinct groups – Begnagrad, Srp and D'Pravda – originated and worked in the second half of the 1970s and early 1980s in Slovenia. In their music they emphasized experimentation and a trans-genre approach, while in public appearances they also used multimediality. Members of the Begnagrad band posed as authentic folk musicians, D'Pravda emphasized social intonation and a model of guerrilla agitprop theatre, and Srp oscillated between different musical contexts and genres, from jazz, punk to contemporary experimental and classical music. In addition, they developed a specific visual expression: in the design of their posters, record covers, scenery, scenic paintings and photography.
The key figure in the story of Rock in Opposition in Slovenia is Aleks Lenard. In 1974, Stane Sušnik invited him to create an independent radio show on Radio Student. This was the first radio show dedicated to experimental music in Yugoslavia. It was called Untergrunt Molekula (Underground Molecule). Aleks Lenard focused on a wide range of non-commercial music, including progressive rock, with a focus on krautrock and German electronic music, American outsider rock, etc. Untergrunt Molekula existed until 1978. In addition to DJ activities on Radio Student, Lenard published his own texts extensively, in Slovenian magazines such as Mladina, Nedeljski dnevnik, Tribuna, Stop, Glasbena mladina, and Džuboks. Through writing and working in the media, he created an information platform that significantly influenced the positive reception of opposition music.
Only two years after the first international RIO festival in London, Aleks Lenard and Zorko Škvor (Škuc) organized the first RIO festival in Ljubljana. It took place from 20 to 21 June 1980 on the terrace of the Rio Inn in the city centre. It featured Srp (Ljubljana), Art Zoyd (Maubeuge, France), Mamma Non Piangere (Milan, Italy) and Univers Zero (Brussels, Belgium). The festival received a great response from the audience. This was the first manifestation of RIO in Eastern Europe. A year later, on 17 December 1981 at the Ljubljana Festival Hall, the second edition of the festival, entitled New Year's Sale, followed. It featured Begnagrad, Srp, D'Pravda, Istranova, Alfredo Lacosegliaz (Gruppo Folko Internazionale, Milan), Andrej Rozman Roza and Marko Brecelj. The third edition of the RIO festival was in Križanke from 2 to 3 June 1982 with the bands Laibach, Black Sheep (Netherlands/England), Nekropolis (Germany), D'Pravda, Begnagrad and Art Zoyd (France).
Members of the groups Begnagrad, Srp and D'Pravda (Bogo Pečnikar, Iztok Osojnik, Gojmir Lešnjak, Tadej Pogačar) were active in the field of visual art – in the media of photography, experimental film and painting (scenography, graphic design), in which they developed an original visual language. Several members of the groups (Andrej Rozman Roza, Iztok Saksida Jakac, Gojmir Lešnjak) were also internationally active in other spheres of artistic creativity, in the fields of literature, theatre, and alternative street theatre.