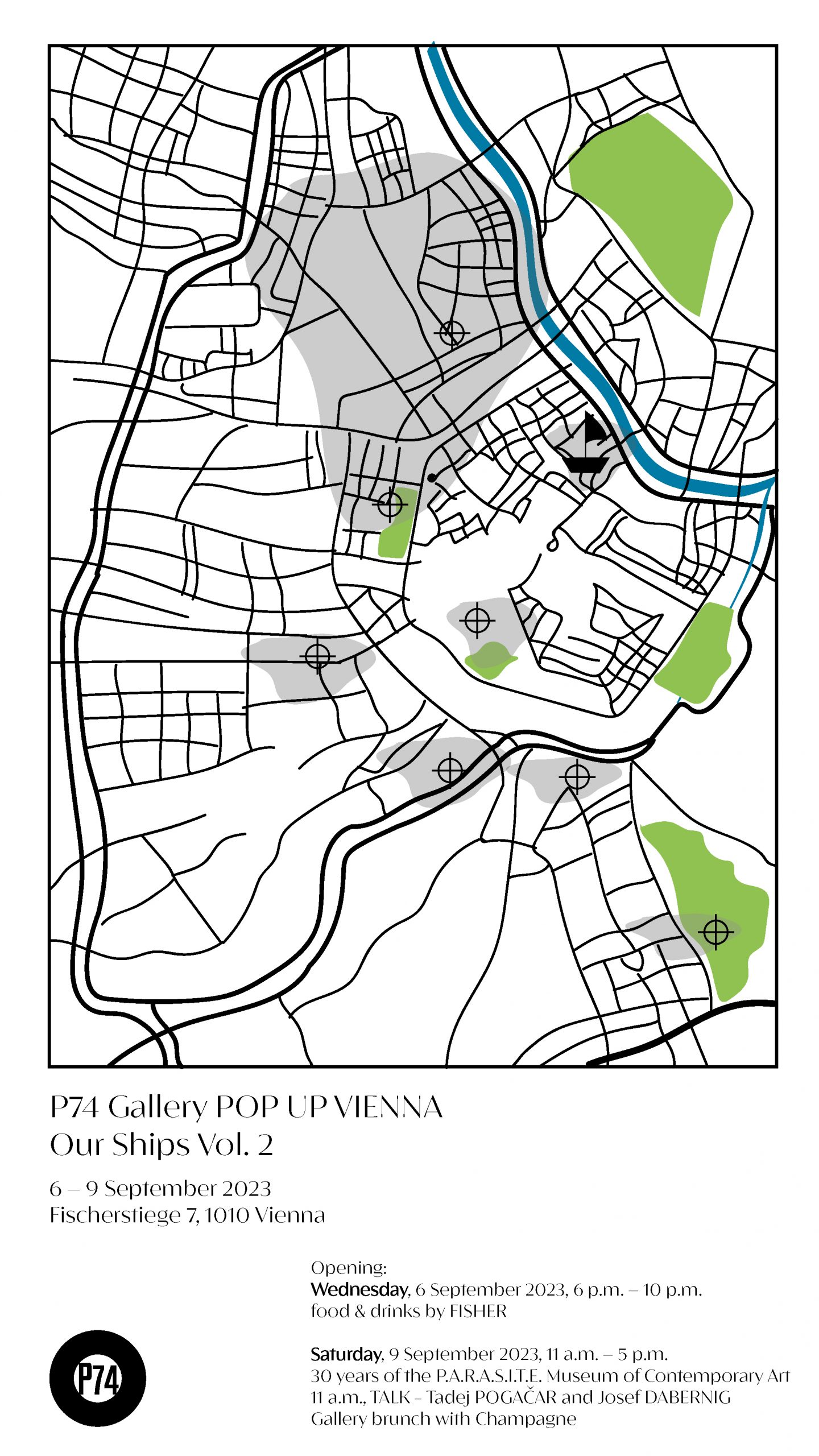 Photo: P74 Gallery Archive
6 – 9 September 2023
P74 Gallery Vienna
Fischerstiege 7, 1010 Vienna
_____
You are cordially invited to attend the opening of the exhibition Our Ships Vol.2 on Wednesday, 6 September 2023, between 6 p.m. and 10 p.m. at the P74 Gallery in Vienna (Fischerstiege 7, 1010 Vienna).
_____
After the long voyages across the world's seas, some have arrived to their new harbour in Vienna. These are our EXCELLENT, EXCELLENT, EXCELLENT artists, our GREAT, GREAT, GREAT artists. OUTSTANDING creators. They are irreplaceable. We are proud of them.
In addition to the P74 Gallery artists, namely Boris Cvjetanović, Sanja Iveković, Laibach Kunst, Polonca Lovšin, Dalibor Martinis, Tadej Pogačar, Uroš Potočnik and Mladen Stilinović, this time we are particularly pleased to announce the works of Mina Fina and Špela Škulj whom the Gallery will represent in the future.
Špela Škulj is a multimedia and visual artist whose complex projects deal with the issues of identity, history, the individual and the collective. In Vienna, we are presenting her extraordinary photography series called Kunming Zoo. Mina Fina is a visual artist, graphic designer and illustrator. Her new drawings and collages will be presented for the first time in P74 Gallery Vienna.
Artists exhibited:
Boris Cvjetanovic, Mina Fina, Sanja Ivekovic, Laibach Kunst, Polonca Lovsin, Dalibor Martinis, Tadej Pogacar, Uros Potocnik, Mladen Stilinovic, Spela Skulj
_____
On Saturday, 9 September 2023 from 11 a.m. on you are cordially invited to P74 Gallery Vienna, Fischerstiege 7, 1010 Vienna (bahoe art house), to a discussion between Tadej Pogačar and Josef Dabernig on the occasion of the thirtieth anniversary of the P.A.R.A.S.I.T.E. Museum of Contemporary Art.
Josef Dabernig is a visual artist and film director known for his short conceptual films, photographs, objects, and ambiences. His work is characterised by formal rigour, systematicity, realism of the suburban, and elements of the absurd. Tadej Pogačar is a conceptual artist, museum director and founder of P74 Gallery in Ljubljana.
_____
Welcome!
opening
6 September 2023, 6:00 p.m. – 10:00 p.m.
(food&drinks by FISHER)
7 & 8 September 2023, 1:00 p.m. – 7:00 p.m.
9 September 2023, 11:00 a.m. – 5:00 p.m.
30 years of the P.A.R.A.S.I.T.E. Museum of Contemporary Art
talk – Tadej Pogacar & Josef Dabernig
folowed by Gallery brunch with Champagne
Central Location in Vienna
Fischerstiege 7, 1010 Vienna (bahoe art house)
500m from Schwedenplatz (U1 & U4)
500m from Stephansplatz (U1 & U3)