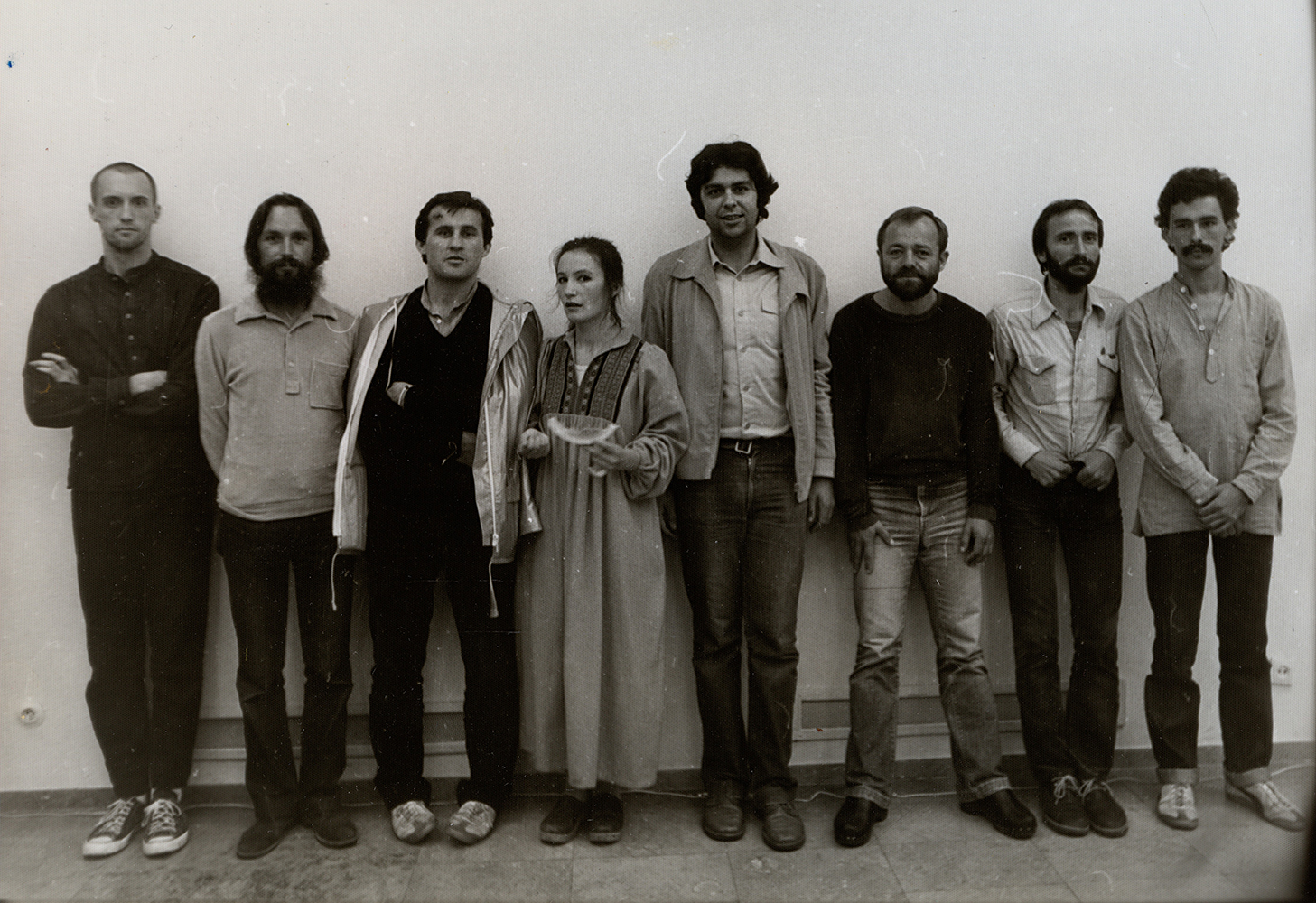 Zoran Belić, Marko Pogačnik, Miroslav Mandić, Maja Stanković, Miško Šuvaković, Darko Hohnjec, Mirko Radojićić, Paja Stanković, Naša skupna šola o prostoru, Salon MSU, Beograd, 1972
12 October – 3 November 2021
P74 Gallery

ABS, Archive of Cetinje Biennials, Autopsia, BADco., Breda Beban and Hrvoje Horvatić, Borgesia, Bosch+Bosch, Crveni Peristil, Dado and Mirko Kujačić, Delavsko punkerska univerza, Vlasta Delimar and Željko Jerman, Vlasta Delimar and Milan Božić, Vlasta Delimar, Milan Božić and Tomislav Gotovac, diSTRUKTURA, Nuša and Srečo Dragan, Family in Šempas, Fokus Group, Gorgona, Group 143, Group (ꓱ KȏD, Group KȏD, Group of Six Artists, The Group of Six Authors, Group TOK, Group ZERO, Group ZVONO, Hidrogizma, Institut for Contemporary Art, Institut Egon March, Irwin, Sanja Iveković and Dalibor Martinis, Janez Janša, Janez Janša, Janez Janša, Cinema Club Zagreb, Theater Kugla, Curatorial team of the exhibition Beyond Art Groups, Irena Lagator and Jelena Tomašević, Laibach, Our joint work, NSK – Neue Slowenische Kunst, OHO, OHO Katalog, Opus 4, P.A.R.A.S.I.T.E. Museum of Contemporary Art, Bogdanka and Dejan Poznanović, Bogdanka and Dejan Poznanović, Nuša and Srečo Dragan, Provisional SALTA Ensemble, Working community of artist Poodrum, Marjetica Potrč, Nika Radić and Corin Arnold, Rena Rädle and Vladan Jeremić, Tanja Ristovski, Mima Orlović, Nataša Teofilović, SEMINAR, SMALL BUT DANGERS, son:DA, TkH – Teorija koja Hoda, Slaven Tolj and Maria Grazio, Verbum program, Video Collective, Weekend Art, Common school about space, ZzIP – Zajednica za Istraživanje Prostora
>exhibition view @P74 Gallery
>Video Miško Šuvaković – Beyond Art Groups
You are cordially invited to attend the preview of the exhibition BEYOND ART GROUPS – THE NEW ART APPARATUS curated by Miško Šuvaković and Darko Šimičić, on Tuesday, October 12, between 6 pm and 8 pm at the P74 Gallery in Ljubljana.
The exhibition will be on view from 13 October to 3 November 2021 at the usual opening hours of the Gallery (monday to friday, 12.00 to 18.00, extra viewings upon individual arrangement).
The exhibition Beyond Art Groups – The New Art Apparatus presents art collectives that have been working on the territory of the former Yugoslavia from the 1960s to the present day. There are many groups and movements involved that have brought different forms and dynamics of cultural activity, status and functions of artwork, communication, and the role of the audience – ranging from micro communities, living communities, to current institutional and post-institutional formations. Included here are groups that have their own infrastructure, parainstitutional organizations, artistic couples, temporary associations of artists, and groups that are fictitious constructions.
The exhibition presents various models and forms of existence and activities of art groups that have worked in the so-called conceptual tradition. It focuses on a critique of current models of institutions, their programs, and the basic working conditions of the artistic production. The research and exhibition highlight the changing relationships between roles in the production, presentation and documentation of contemporary art during the transition period. The main issues addressed by the exhibition are how institutions have influenced each other, how they have changed and cooperated, and how political changes have affected artistic practice itself. The exhibition reflects on the need for new, alternative inter- and supra-institutional models of institutions and their new working strategies and roles.
In the context of the neo-avant-garde of the 1960s, the central place belongs to OHO, which was not just an art group as it acted as a movement that connected artists from various artistic fields and practices, from intermedia art, performative practices to film, theory, etc. In the spirit of the times, they sought to renovate the sphere of art and society. The early emergence of video art is also closely linked to conceptualism. In the initial period of their creativity (1968–1969), Srečo and Nuša Dragan used video to dematerialize the art object. The activities of the OHO Group also resonated significantly in the wider Yugoslav area and influenced the KOD Group, the (ꓱ Group and the 143 Group.
The exhibition includes: OHO Group, Family in Šempas, Nuša and Srečo Dragan, Hidrogizma, Bosch+Bosch Group, KOD Group, 143 Group, Verbum program, Provisional Salta Ensemble, Gorgona, Group of Six Artists from Zagreb, Podrum, Weekend Art, ABS Group, P.A.R.A.S.I.T.E. Museum of Contemporary Art, NSK, IRWIN, V.S.S.D., Egon March Institute, Workers and Punks' University, Janez Janša, Janez Janša and Janez Janša, participatory works by Marjetica Potrč. Virtual and fictional groups and organizations such as the Provisional Salta Ensemble are also included.
Each group is presented with a work of art (diagram, text, photography, video, painting) which represents their character and work-mode in relation to the totality of society and culture.
______
Miško Šuvaković (born 1954) is an internationally renowned theorist, lecturer, writer and curator, and one of the best connoisseurs of contemporary art in the region. He is an honorary member of the Slovenian Society for Aesthetics. He holds a PhD from the Faculty of Fine Arts, University of Belgrade, and is a full professor at the Faculty of Music in Belgrade, where he teaches art theory at an interdisciplinary postgraduate course. He was active as a member of the conceptualist collective 143 Group (1975–1980), he was an editor of the independent newspaper for the theory Mentalni prostor (Belgrade, 1982–1987), a member of the editorial board of the newspapers Transkatalog (Novi Sad, 1995–1998) and Teorija koja hoda (Belgrade, since 2001). He has published numerous books, including: Pas Tout (Buffalo, 1994), Prolegomena za analitičku estetiku (Novi Sad, 1995), Postmoderna (Belgrade, 1995), Asimetrični drugi (Novi Sad, 1996), Estetika apstraktnog slikarstva (Belgrade, 1998), Pojmovnik moderne i postmoderne likovne umetnosti i teorije posle 1950 (Beograd and Novi Sad, 1999), Paragrami tela/figure (Beograd, 2001), Anatomija angelov (Ljubljana, 2001), Figura, askeza in perverzija (Koper, 2001), Martek: fatalne figure umjetnika: eseji o umjetnosti i kulturi XX. stoljeća u Jugoistočnoj, Istočnoj i Srednjoj Europi kroz djelo(vanje) umjetnika Vlade Marteka (Zagreb, 2002), Impossible Histories: Historical Avant-gardes, Neo-avant-gardes, and Post-avant-gardes in Yugoslavia, 1918 – 1991 (MIT – Cambridge, Massachusetts, 2003), Politike slikarstva (Koper, 2004), Pojmovnik suvremene umjetnosti (Zagreb and Gent, 2005), Konceptualna umetnost (Novi Sad, 2007), Istorija umetnosti u Srbiji: XX vek (Orion Art, Belgrade, 2010 – 2014), Skrite zgodovine skupine OHO (Ljubljana, P.A.R.A.S.I.T.E. Institute, 2009), etc. As a curator, Miško Šuvaković has organized and prepared over twenty exhibitions.
Darko Šimičić (born 1957) is an art critic and curator. He lives in Zagreb. He is the president of the Tomislav Gotovac Institute, which he co-founded in 2021. He worked at the Soros Centre for Contemporary Art (1996–2006) and at the Museum of Contemporary Art in Zagreb (2006–2009). He is a member of the AICA Association. In the late 1970s, he began collecting and creating an archive and collection of contemporary Croatian art. He has prepared numerous exhibitions at home and abroad and has contributed several texts and critiques. He is a frequent lecturer in the local and the international space. His professional interest is focused on the historical avant-garde (Zenitism, Dadaism, Bauhaus, photomontage) and the art of the 1960s and 1970s (Gorgona, Mangelos, Group of Six Artists, Tomislav Gotovac). He was a member of the project group for the retrospective of Tomislav Gotovac (Rijeka, Ústí nad Labem, Ljubljana, 2017–2018) and co-editor of the books Tomislav Gotovac: Anticipator kriza (Rijeka, 2017) and Tomislav Gotovac: Life as a Film Experiment by Slobodan Šijan (Zagreb, 2018).