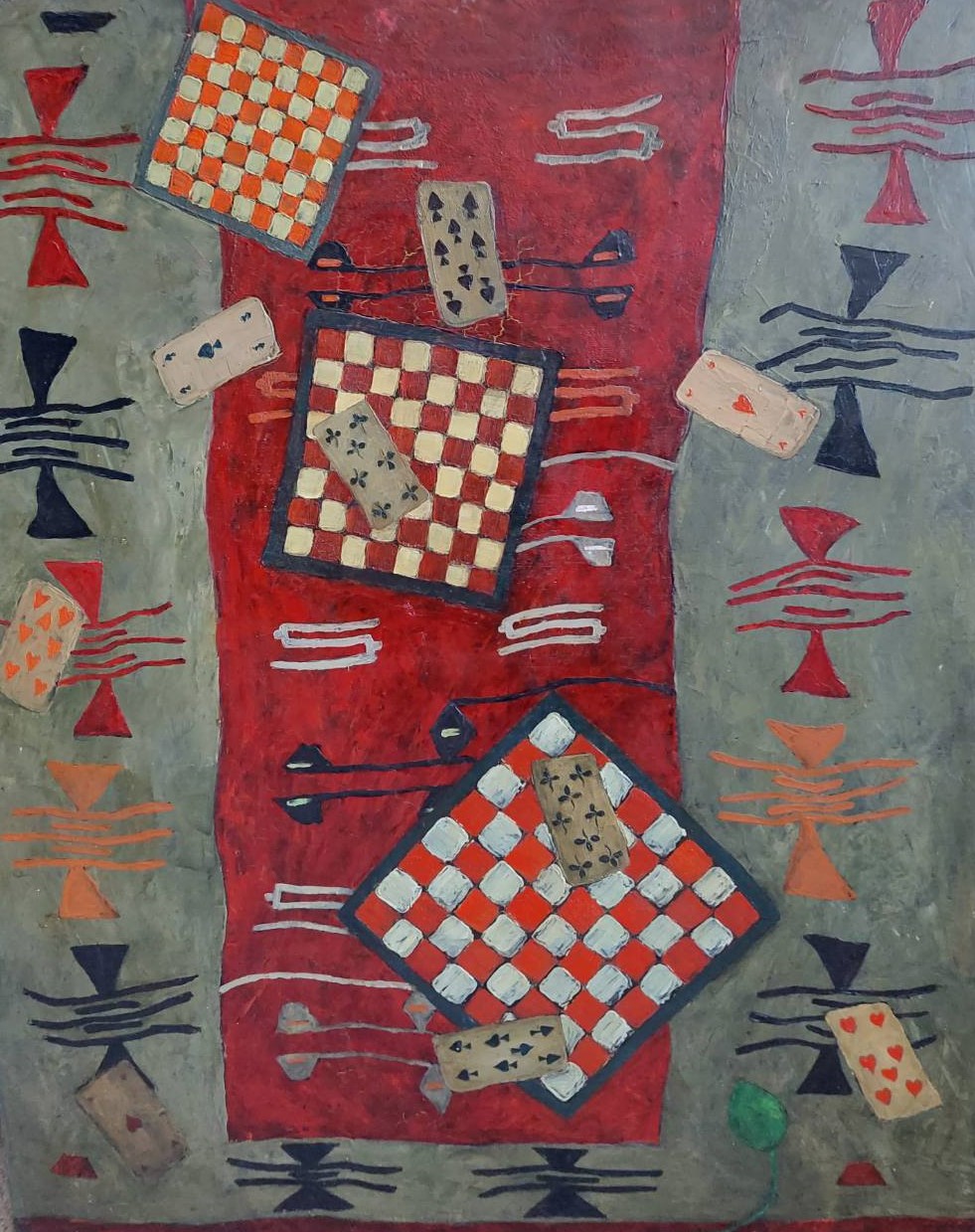 Milena Usenik, Šahovnica 1, 1968
11 March – 3 April 2022
P74 Gallery

You are cordially invited to attend the preview of the exhibition Samodrug by Milena Usenik on Friday, 11 March, between 6pm and 8pm at the P74 Gallery in Ljubljana.
>The exhibition will be on view till 3 April 2022 at the usual opening hours of the Gallery (monday to friday, 12.00 to 18.00, extra viewings upon individual arrangement).
______
Eight years ago, Mojca Grmek prepared a ground-breaking exhibition, Lost Pop Art by Milena Usenik in P74 Gallery. It was the first time that an exhibition gathered in one place most of Usenik's Pop art pieces, hybrids that combine elements of Pop art and Op art that had been created between 1971 and 1976. Milena Usenik did not find a like-minded interlocutor in the 1970s. It is symptomatic that she exhibited together with colleagues, but remained invisible to critics as a woman. The exhibition at the P74 Gallery wanted to stimulate a dialogue about the innovations brought by her work, but we were not successful. Records of her work were almost always subject to stereotyping or sexism.
Since we are talking about lost Pop art, a direction that exploited popular and mass culture (during the complete domination of high modernism in Slovenia), the use of found objects (similar to Dadaists), we must not stop only at Milena Usenik. There is too much of what is misunderstood and omitted in this porous story. Let us just mention the exceptionality of the early production by Drago Della Bernardina (Culture House Postojna) and Marko Pogačnik (comics, plaster castings). These are artifacts (objects, articles) which, to put it simply, have been created by the process of isolating everyday objects from their environment and recontextualizing them into a new visual semantic whole.
Here we are presented with a new exhibition that opens up new topics about the processes of perception structuring and interpreting the world. Milena Usenik's view is generally open and dialogical. She is intimately interested in nature, objects, and people. She herself points out her dependence on the environment. At first, she was decisively marked by the village Bloke, and later by the unique and intense chromatics of Istria. She's experienced a radical change in the environment as a visual shock. In the artist's decades-long oeuvre, we can follow various images and cycles. These embody different ways of looking. How someone sees things is also reflected in the very choice of motive. Every imitation we follow in the works always brings with it a process of adaptation. The eye, the brain, and culture cooperate in this process. Perhaps the very concept of cultural hybridity in the context of her work is the appropriate analytical approach. Claude Lévi-Strauss argued that all cultures are the result of a mishmash, and Edward Said believed that the history of all cultures is the history of cultural borrowing.
______
Milena Usenik (b. 1934) studied painting at the Academy of Fine Arts in Ljubljana where she graduated in 1965 under the mentorship of prof. Maksim Sedej, and in 1968 she completed her specialization in painting under the mentorship of prof. Gabrijel Stupica. She has presented her work at numerous solo and group exhibitions at home and abroad. She lives and works in Logatec and Ljubljana. In 1973, she received a special award at the exhibition of Slovenian artists in Art Pavilion Slovenj Gradec, an award at the 1st Biennial of Small Painting Mini Prix Lucas '93 in Bled, and Grand Prix at the 2nd Biennial of Small Painting Mini Prix Lucas '95 in Ljubljana. She has exhibited at solo exhibitions in Ljubljana, Novo mesto, Ajdovščina, Koper, Ribnica, Cerknica, Ljutomer, Maribor, Celje, Domžale, Sežana, New York. She has exhibited at group exhibitions in Škofja Loka, Celje, Kranj, Sombor, Slovenj Gradec, Koper, Piran, Sarajevo, Ajdovščina, Bled, Dubrovnik, Bonn, Vienna and Gorizia. Of international importance was the exhibition Ludwig Goes POP + The East Side Story at the Ludwig Museum in Budapest (where the works of Eastern and Western artists were exhibited together for the first time). In 2021, Milena Usenik received the Rihard Jakopič Prize for Lifetime Achievements.
______