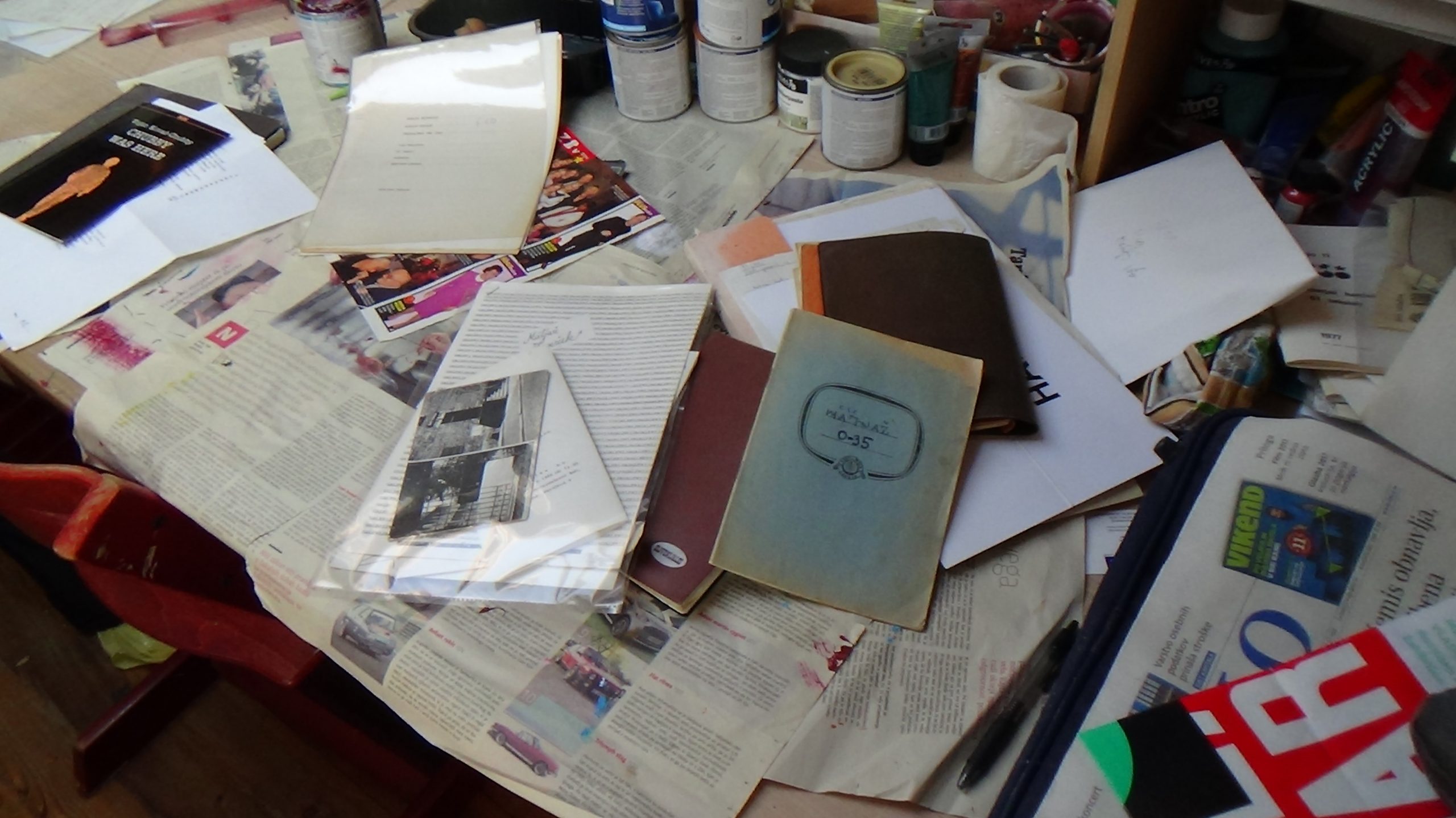 5 – 26 October 2023
P74 Gallery, Ljubljana
____
You are cordially invited to attend the opening of the exhibition A Room of One's Own by Matjaž Hanžek on Thursday, 5 October 2023, between 7pm and 9pm at the P74 Gallery in Ljubljana.
The exhibition will be on view till 26 October 2023 at the usual opening hours of the Gallery (monday to friday, 12.00 to 18.00, extra viewings upon individual arrangement).
____
»But with creation in any area, it is the case that one slightly changes, adds to or spoils what has already been done or said, and something new is created. In truth, all these activities of mine, both here and in other areas I worked in, are a search for a new space, a new room of my own. This applies to sociology or human rights as much as to activism.«
— Matjaž Hanžek
This text is different from the other texts we publish at exhibition openings. Matjaž Hanžek is an extraordinary and particular case. We are interested in him as a complex personality, an artist, a sociologist, a poet and a politician, who has been lost and forgotten by history and, above all, by art history, as an artist. It is time for a room of his own.
The countercultural line of artistic creation, to which Matjaž Hanžek belongs, asserted the revision of existing history. It acted in social spaces that were not only intended for visual art but were connected to various artistic forms and genres, to popular music, rock and jazz, and comics. This production constantly reflected the socio-political everyday life in which it was developed. At that point, a deadlock occurred. Local art criticism could not take a decisive step (not then, not now) that would connect the youth counterculture of the sixties and seventies with conceptual art. It was unable to do this neither with Hanžek nor with the consideration of the OHO group, which was unjustifiably limited to visual art even though it was distinctly multimedial.
Iztok Geister, his brother-in-arms, wrote that for Matjaž Hanžek, poetry is a reality. He has set clear boundaries for poetry through variations, but it all remained on the surface, like the skin of a flayed animal exposed to reciprocality and the language of structure. Hanžek combined his unconventionality and distinctness with play and experiment, intersecting this with anarchism, scepticism, and cynicism. In the sixties and seventies, his poems were radical and multimedial; they resided in physical space; he combined them with the objective, etc. They were often autopoietic, using different entries and notations.
The exhibition A Room of One's Own by Matjaž Hanžek is not a retrospective. The mythical pieces such as Skyscraper, Are You Human? Are You Free?, Poem in the Wind, Poem for Vojvodina, Correcting Literary History, and others, and then a cut with Self-Portrait Then. Followed by the icing on the cake: the newly discovered poems featured in the special Dadaist Corner. Is this normal? Correct? It is because we invent the rules and do so on the fly.
The fact is that local criticism places Matjaž Hanžek in the group of authors of concrete and visual poetry, together with Franci Zagoričnik, Iztok Geister and Ivan Volarič–Feo. It is also a fact that the production of concrete and visual poetry was excluded, ignored and silenced for decades. It is time for it to come back.
How again did Aleš Kermauner finish the poem What is Monstrosity No. 2 in his Book? The most global Monstrosity is Rita Pavone.
_____
Matjaž Hanžek (1949) is a visual artist, poet, sociologist and politician. In 1977, he graduated in sociology from the Faculty of Sociology, Political Sciences and Journalism in Ljubljana and then got a job at the Institute for Social Planning. As a representative of the local neo-avant-garde, he created the most comprehensive and diverse oeuvre of concrete and visual poetry in our country. His activities in the sixties, seventies and eighties are characterised by varied and open experimentation, from the first publications of poetry in the student newspaper Tribuna to collaborating in the OHO group, editing the Problemi magazine and working on Radio Študent or leading the Škuc Association, etc. He published several books: Spatial Paper (1967), Four Poems (1969), We Are Looking For Poems, Where Are They (1969), A Washerwoman is Cutting a Duck's Tail with Aleš Kermauner, Marko Pogačnik, Tomaž Šalamun, Franci Zagoričnik, I.G. Plamen, Milenko Matanović, Vojin Kovač – Chubby, and Slavoj Žižek (1969), Draft (1972), 61 Texts (1977), Let's Open the Windows, Burn the Old Rags (essays, 2011). He participated in several group and solo exhibitions, among others, in the Extended Media Gallery in Zagreb, the Museum of Contemporary Art in Belgrade, the Art Gallery Likovni susret in Subotica, the Museum of Contemporary Art in Zagreb, the FM Centre for Contemporary Art in Milan, the Museum of Contemporary Art Metelkova in Ljubljana, the Bežigrad Gallery in Ljubljana, and the P74 Centre and Gallery in Ljubljana.