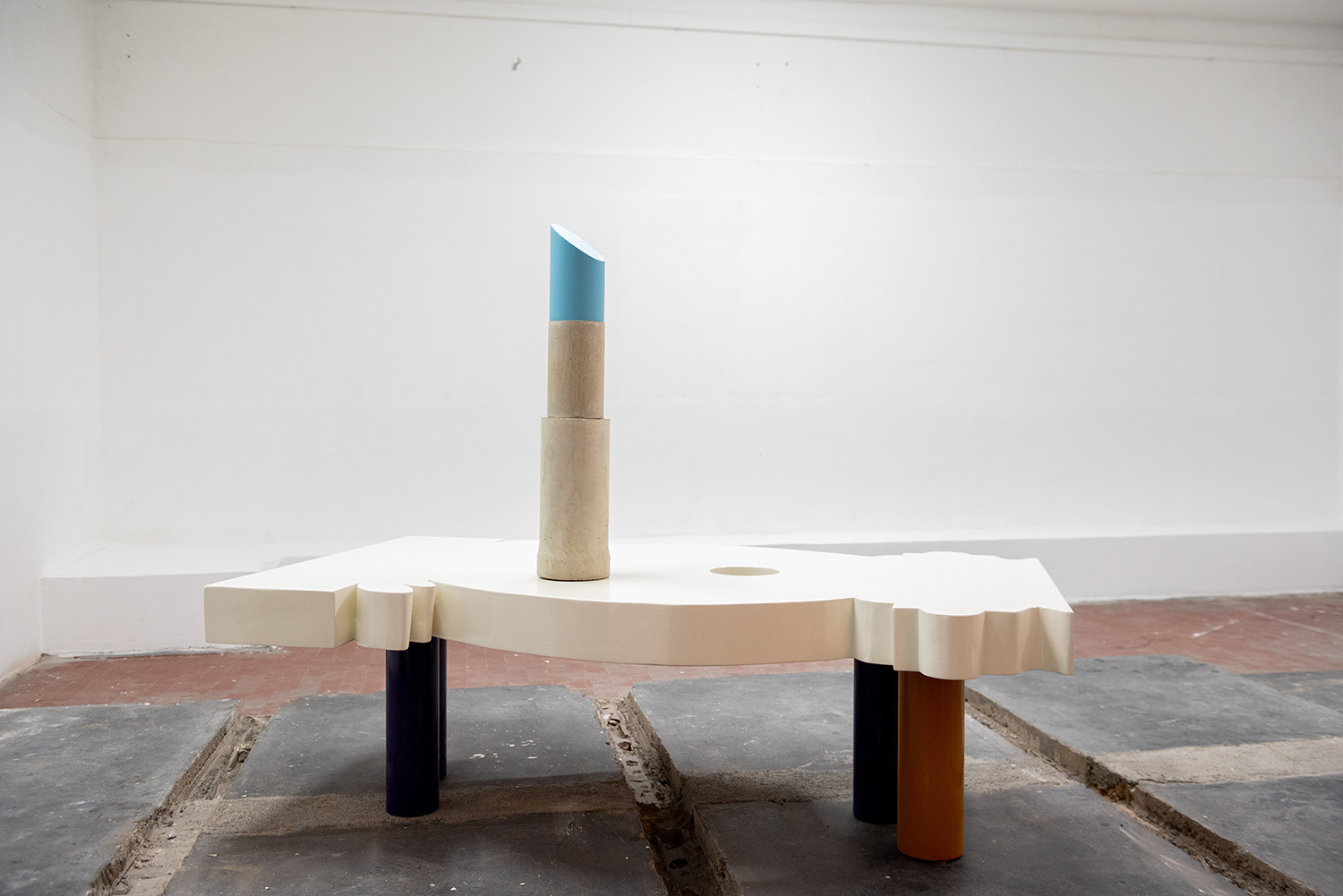 4 – 25 June 2021
P74 Gallery, Ljubljana

In her sculptures, installations and artistic practices, Maruša Sagadin examines various fields of architecture, sculpture, gender, language, pop culture, and subculture. She deprives everyday objects of their normative applicability (a pair of wooden shoes becomes a sculpture, a fashionable accessory, a theatre requisite, a model). The form of her sculptures and installations is usually abstracted, refigured, and fragmentary. Materials such as concrete, wood, metal or styrofoam are exhibited in their raw state or cladded with pastel colours. The building blocks of her spatial installations are objects, images, words, colours, light. By mixing syllables of words or pop fragments, combining them as a contemporary DJ, she directs us to a kind of post-postmodernism (Christiane Erharter) as a form of art criticism, critique of architecture, modernism, and capitalism.
The basic material of Maruša Sagadin's work is personal language that only pretends to be useful, lasting and timeless. Often isolated architectural fragments are a starting point for a large number of works, objects, installations. In her latest pieces, Sagadin regularly uses caryatids (female statues that have the function of a supporting pillar in architecture), a classical Western architectural element, as a lasting symbol for women who form public space and promote community. Using humour, exaggeration and playfulness, these installations invite viewers to participate. In this way, Sagadin consciously forms the public social space.
Reflection on the use of urban public space plays an important role in her work. Dominique Perrault, Zaha Hadid and Jean Nouvel are international architectural stars who are often invited to design representative buildings, also in Austria. These invitations are a thoughtful calculation and are useful for provincial towns. In her works in public space, Maruša Sagadin talks about connecting the interests of capital and tourism. In several projects, she designed public sculptures as a form of street furniture. She was invited to create a festival zone in a public space at the steirische herbst festival in Graz, which was supposed to serve as the festival's corporate identity. She mainly used benches (which appeared inside and outside) as sculptures that wanted to play the role of a theatrical imitation and created a sense of a kind of metamorphosis.
______
Maruša Sagadin was born in 1978 in Ljubljana. Between 1997 and 2004 she studied at the School of Architecture at the University of Technology in Graz, and between 2005 and 2010 at the Academy of Fine Arts in Vienna, where she graduated. In recent years, she has exhibited in numerous solo and group exhibitions at the Christine König Gallery in Vienna, SPACE London, NADA New York, Austrian Cultural Forum New York, Syndicate in Cologne, Neue Galerie in Innsbruck, Museum of Contemporary Art Metelkova in Ljubljana, Belvedere 21 in Vienna, Kunstverein in Graz, Museums and Galleries of Ljubljana – CC Tobačna 001 in Ljubljana. In 2015/2016, she was awarded the ISCP Grant in New York, and in 2010, the Schindler Grant in Los Angeles. Between 2011 and 2017, she was Assistant Professor at the Academy of Fine Arts in Vienna, in the class of prof. Monica Bonvicini, at the Department of Performative Arts and Sculpture.