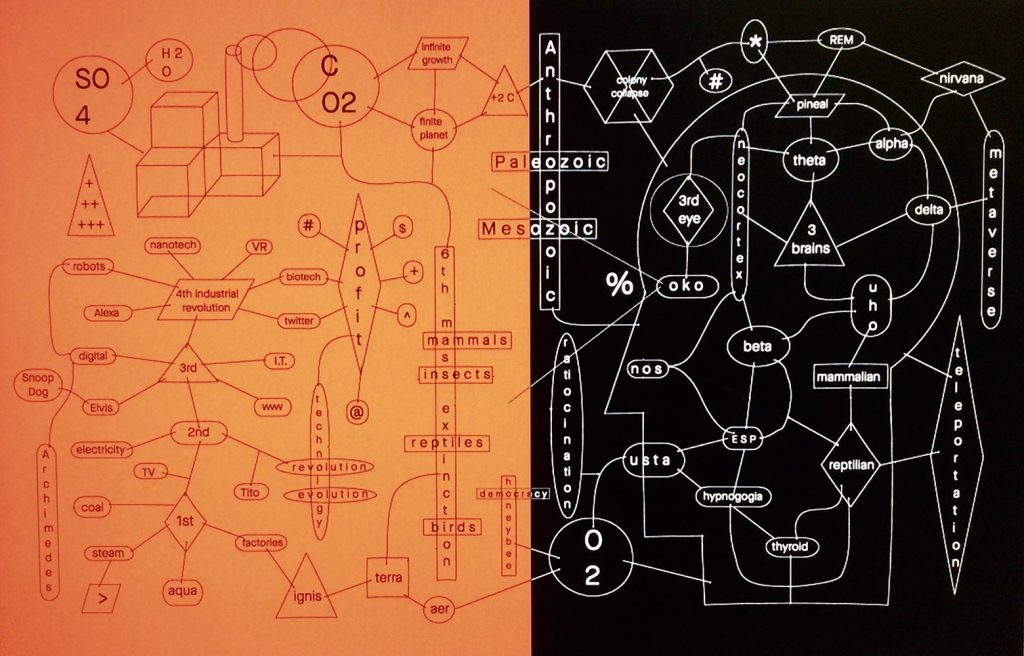 David Nez, 4th Industrial Revolution, 2021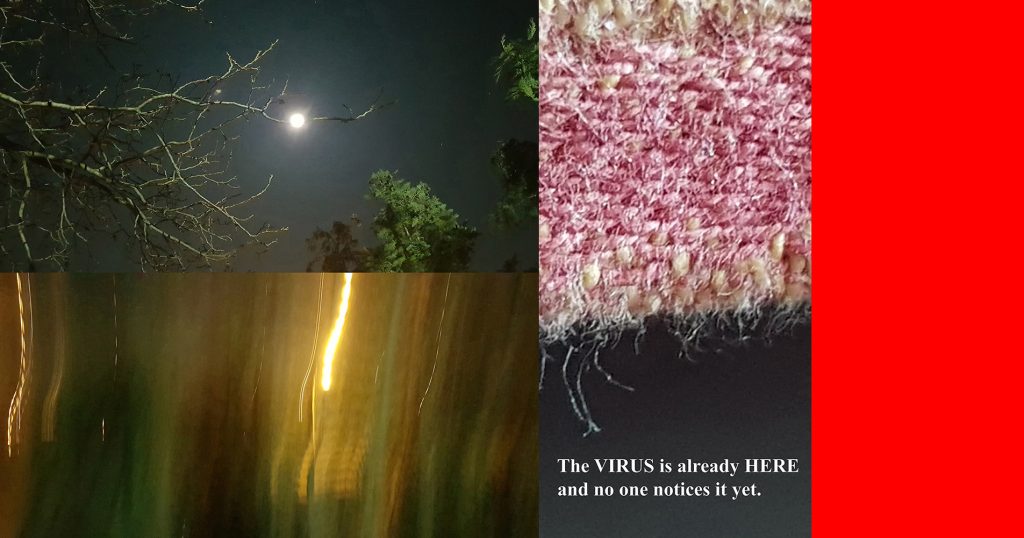 Provisional Salta Ensemble and Miško Šuvaković, VIRUSAGENCYBULLETINFUSIONROUGHNOBODYINVESTMENTDIFFUSEVOID, Ein Gespenst-Virus geht um in Europa!, 2019-2023
Ernest Ženko, Nataša Teofilović, Aphra Tesla, David Nez, Grupa za konceptualnu politiku, Zoran Todorović, Dražen Pejković, Tadej Pogačar & P.A.R.A.S.I.T.E. muzej sodobne umetnosti, Tanja Lažetić, Andreja Kulunčić, Provisional Salta Ensemble in Miško Šuvaković, Nika Radić, Polona Tratnik, Radenko Milak, Selman Trtovac & Vladimir Frelih, Jusuf Hadžifejzović, Siniša Labrović, Irena Lagator Pejović
16 June – 4 July 2023
P74 Gallery
Curator: Miško Šuvaković
_____
You are cordially invited to attend the opening of the exhibition INDEXES: THE VIRUS SOMEWHERE IN EUROPE on Friday, 16 June 2023, between 7pm and 9pm at the P74 Gallery in Ljubljana.
>Before the opening you are kindly invited to attend the lecture of Miško Šuvaković at 5.30pm at the P74 Gallery.
The exhibition, INDEXES: THE VIRUS SOMEWHERE IN EUROPE, BIOPOLITICS/NECROPOLITICS AND FORMS OF LIFE IN CONTEMPORARY ART, presents media and performative works by contemporary artists who deal with the dynamic relations of biopolitics, necropolitics, and forms of life in contemporary society, culture, and art. The project aims to identify events and processes of permanent economic, ecological, health, political, and existential crisis in visual and audio-visual culture. The present authors and artists are interested in identifying the visibility of the control of life (biopolitics) and the control of death (necropolitics) in the time immediately before the pandemic of the COVID 19 virus.
The exhibition is formalized in the question, Does the virus have politics? It is not the direct intention of the virus, but it is undoubtedly its material effect. Then the definition of politics should read: politics is any human or non-human activity with specific impacts on society! Through art, the biopolitics/necropolitics of viruses and the biopolitics/necropolitics of humans face each other.
The exhibition includes an installation of texts, diagrams, pictures, drawings, photographs, video, internet art, and performances. Each invited artist is presented with an artwork or its documentation material. Furthermore, we are preparing a public guided tour of the exhibition and a lecture by Dr. Miško Šuvaković on the theses of the show, as well as discussions (via Zoom) with the participating artists. A print catalogue accompanies the exhibition.
_____
Miško Šuvaković (b. 1954) is an internationally renowned theoretician, lecturer, writer, and curator and one of the region's finest connoisseurs of contemporary art. He is an honorary member of the Slovenian Society of Aesthetics. He received his Ph.D. at the Faculty of Fine Arts of the University of Arts in Belgrade. He is a full-time professor at the Faculty of Music in Belgrade, teaching art theory in the interdisciplinary postgraduate course. He was active as a member of the conceptualist artistic Group 143 (1975-1980), edited the independent journal for theory Mentalni prostor (Belgrade, 1982-1987), was a member of the editorial board of the journals Transkatalog (Novi Sad, 1995-1998) and Teorija koja hoda (Belgrade, from 2001). He has published numerous books, including: Pas Tout (Buffalo, 1994), Prolegomena za analitičku estetiku (Novi Sad, 1995), Postmoderna (Belgrade, 1995), Asimetrični drugi (Novi Sad, 1996), Estetika apstaktnog slikarstva (Belgrade, 1998), Pojmovnik moderne i postmoderne likovne umetnosti i teorije posle 1950 (Belgrade and Novi Sad, 1999), Paragrami tela / figure (Belgrade, 2001), Anatomija angelov (Ljubljana, 2001), Figura, askeza in perverzija (Koper, 2001), Martek: fatalne figure umjetnika: eseji o umjetnosti i kulturi XX. stoljeća u jugoistočnoj, istočnoj i srednjoj Europi kroz djelo(vanje) umjetnika Vlade Marteka (Zagreb, 2002), Impossible Histories: Historical Avant-gardes, Neo-avant-gardes, and Post-avant-gardes in Yugoslavia, 1918 – 1991 (MIT – Cambridge, Massachusetts, 2003), Politike slikarstva (Koper, 2004), Pojmovnik suvremene umjetnosti (Zagreb and Ghent, 2005), Konceptualna umetnost (Novi Sad, 2007), Istorija umetnosti u Srbiji: XX vek (Orion Art, Belgrade, 2010 – 2014), Skrite zgodovine skupine OHO (Ljubljana, P.A.R.A.S.I.T.E. Institute, 2009), etc. As a curator of contemporary visual art, Miško Šuvaković has organized and prepared dozens of exhibitions.